Communications Class Places at National Student Advertising Competition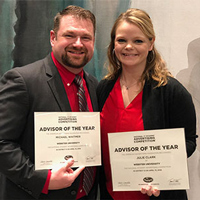 Congratulations to the students in the Advertising Campaign Production class and School of Communications adjunct faculty members for honors received in the National Student Advertising Competition (NSAC) last weekend in Kansas City.
The NSAC is an annual competition held by the American Advertising Federation. The NSAC District 9 competition in which Webster students competed is comprised of schools from Iowa, Kansas, Missouri, and Nebraska. Webster students won third place at the competition for their project, while adjunct faculty members Julie Clark and Michael Whitmer received Advisor of the Year awards.
For the production course, the students worked together in roles that would be needed to create and operate a small advertising agency, such as account management, account planning and creative. They developed a completely integrated marketing campaign for Ocean Spray, this year's client.
During the competition, the student agency pitched their campaign to the judges.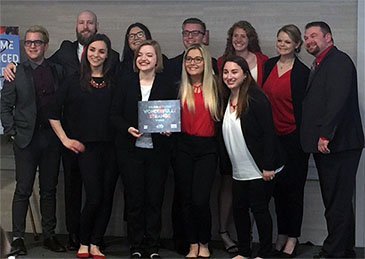 They "did an amazing job" and delivered a "flawless" performance, said Terry Sullivan, professor of advertising and marketing communications in the School of Communications.
Team members included students DusDee Black, Katie Blackstone, Courtney Coonrod, Meg Illig, Emily Klein, Colin Land, Rachel Mencel, Jonah Munzer, Medina Niksic, Helio Qendro and Chelsea Valle.
Read more about the competition at the School of Communications.
See the Students Present on Campus May 2
Community members will have a chance to see the students present on campus on May 2 at the Friends & Family NSAC presentation. Doors will open at 6:30 p.m., and the presentation begins at 7 p.m. in the Browning Hall Auditorium.