Webster Students Win Journalism Excellence Awards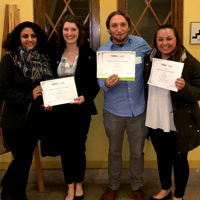 Five staff members of The Journal, Webster University's student newspaper, won Mark of Excellence Awards at the Region 7 Conference of the Society of Professional Journalists (SPJ).
The students won first-place awards in general news reporting, in-depth reporting, and featuring writing, while one was also a finalist for a second article in the feature writing category. This follows recent news earlier this month of 28 state awards for The Journal at the Missouri College Media Association conference.
Each SPJ Region 7 winner and finalist received an award certificate acknowledging their work as the best in college journalism in their region. Next, the first-place winners will compete at the national level among other regional Mark of Excellence winners from a total of 12 SPJ regions. The national conference will be held in Baltimore in September 2018.
The topics of their award-winning work included current issues in St. Louis and campus life events:
First-Place Winners
General News Reporting - Haley Walter
Students 'shame' St. Louis Police Department after Stockley verdict
In-Depth Reporting - Sara Bannoura, Hanna Holthaus, and Alexa Kannenberg
The heroic life and traumatic death of Tom Palozola
Feature Writing - Andrew McMunn
Drepung Gomang Monastery brings traditional mandala art to Webster University
Finalist
Feature Writing - Andrew McMunn
Mind's Eye Radio brings beepball to Webster University
Read more about the competition and results in the School of Communications news feed.