Students Save Lives, Raise Awareness in PR Capstone Projects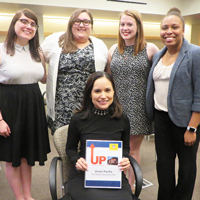 Creating a national education program to reduce deadly vehicle crashes at railroad crossings was one of three experiential learning projects School of Communications senior public relations (PR) students developed for clients in the capstone PR campaigns class this spring taught by Gary Ford, associate professor in the Communications & Journalism Department.
The project for Union Pacific Railroad, headquartered in Omaha, Nebraska, will begin by educating at-risk drivers in the St. Louis area about the danger of railroad crossings and how to avoid collisions. It will then be rolled out across the company's 32,000 mile rail system. The danger is an important public safety issue: Last year, 274 people were killed in 2,105 vehicle collisions at rail crossings.
Another team in the class developed a communications plan to introduce a small Georgia community to its newest employer, Nestle Purina Petcare. Students prepared a week-long community celebration for the opening next year of the company's first new manufacturing plant in 20 years. The $320 million facility will bring several hundred jobs to Hartwell, Georgia, and boost the economy of the region. The project will allow Nestle Purina to make a good impression and build relationships with the community.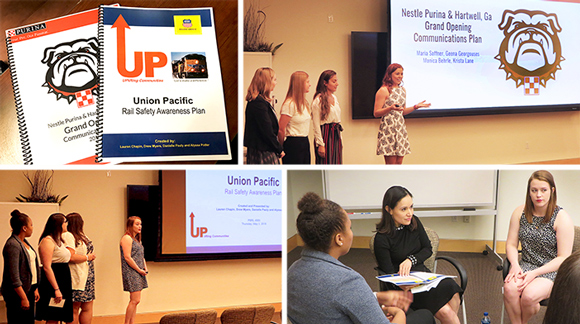 Helping parents find quality daycare for their children was the goal of a third team working for The Learning Center in Sunset Hills, Missouri. The team developed an awareness campaign for the non-profit preschool to help it compete with commercial pre-schools moving into the area. Educating parents about the school's curriculum and programming was the goal of the multi-platform communications program.
This is the 15th year for the experiential based PR campaigns class. which is taught to give students a real world experience working for real clients to solve communications issues. The class, intended to be the last public relations course seniors take before graduation, prepares them for their entry into the public relations profession and introduces them to the challenges of working for clients to solve their communications problems. Since it began, the class has undertaken projects for 55 clients ranging from non-profits, corporations, government agencies, small businesses, and social service agencies.