Community Music School Awarded $15,000 NEA Grant for Preparatory Program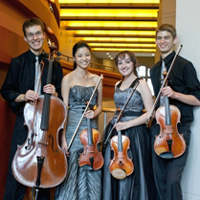 National Endowment for the Arts (NEA) Chairman Jane Chu has approved more than $25 million in grants as part of the NEA's first major funding announcement for fiscal year 2018. Included in this announcement is an Art Works grant of $15,000 to the Community Music School of Webster University for its Preparatory Program.
The Art Works category is the NEA's largest funding category and supports projects that focus on the creation of art that meets the highest standards of excellence, public engagement with diverse and excellent art, lifelong learning in the arts, and/or the strengthening of communities through the arts.

"It is energizing to see the impact that the arts are making throughout the United States. These NEA-supported projects, such as this one to the Community Music School of Webster University, are good examples of how the arts build stronger and more vibrant communities, improve well-being, prepare our children to succeed, and increase the quality of our lives," said NEA Chairman Jane Chu. "At the National Endowment for the Arts, we believe that all people should have access to the joy, opportunities and connections the arts bring."

Carol Commerford, director of the Community Music School at Webster University said, "Receiving an award from the National Endowment for the Arts not only allows the Preparatory Program to continue offering this extremely high-quality program to the most advanced pre-collegiate musicians in the region, it allows us to bring outstanding programs to the greater community through master classes, concerts, lectures and special presentations. In effect, this is an award to the St. Louis music community!"

The CMS Preparatory Program (Prep) is designed to augment the individual music study of exceptionally talented string, woodwind, brass, and piano students who anticipate pursuing a career in music. Utilizing the vast artistic resources of the Greater St. Louis region, including the St. Louis Symphony, area University and other music professionals, as well as Community Music School and Webster University faculty, the Preparatory Program offers high caliber instruction, performance opportunities, and artistic mentoring in one comprehensive curriculum focusing on chamber music.

For more information on projects included in the NEA grant announcement, visit arts.gov/news.
About the Community Music School
Founded in 1925, CMS offers outstanding music education and performance opportunities to students of all ages and abilities and serves the entire St. Louis metropolitan region.

The Community Music School of Webster University is accredited by the National Association of Schools of Music and is a certified member of the National Guild of Community Schools of the Arts. The Community Music School receives assistance from the Arts and Education Council of Greater St. Louis. The Preparatory Program is supported in part by an award from the National Endowment for the Arts.