Bristol Elementary Students Celebrate Chinese New Year at Confucius Institute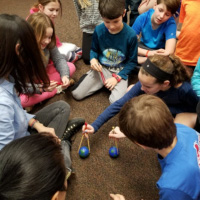 As part of its ongoing celebration of Chinese New Year, the Confucius Institute at Webster University recently partnered with teachers at Bristol Elementary School in Webster Groves to give students a taste of this holiday's major customs and over all significance to the over one billion people who celebrate it worldwide.
At the start of the event, Bristol Elementary School's fourth-graders gathered around to hear the story of how local villagers in China long ago scared away the evil demon Nian using loud firecrackers and drums, face masks, and the color red—the story behind many current Chinese New Year traditions.
Students also had the opportunity to take part in several activities relating to the traditions of China. At one station, they learned how to hold chopsticks properly and tested their new skills in a chopstick relay race. At another, they tried their own hands at the ancient practice of paper-cutting.

Finally, students learned a bit about Chinese calligraphy, writing simple characters and even receiving their own names in Chinese with which to practice.
The Confucius Institute would like to wish all the students and teachers at Bristol Elementary a happy Chinese New Year!