Confucius Institute Hosts Annual Chinese Bridge Competition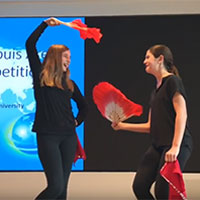 On April 14, the Confucius Institute at Webster hosted its annual "Chinese Bridge Competition" for high school and middle school students. With a new format, this year's competition required more of contestants than ever before.
The requirement that contestants participate in both the speaking and talent categories of the competition, where they were previously allowed to select only one, as well as the addition of a third mandatory category, the impromptu speech, added additional layers of difficulty. Incredibly, contestants rose to the challenge.
Novice and seasoned competitors alike poured countless hours into preparing and memorizing speeches and rehearsing talents ranging from calligraphy and kung fu to music and dance. The result was the strongest pool of talent this competition has seen yet. Congratulations to all participants, and to the first, second, and third place winners!