Snapshots: Confucius Institute Hosts Lunar New Year Celebration

The Confucius Institute at Webster University partnered with the Chinese Education and Culture Center in St. Louis (CECC) to bring a Lunar New Year Celebration on Feb. 11. The event, held on the Browning Mainstage at the Loretto-Hilton Center, strove for inclusivity, with a bilingual format for the 90-minute performance. Audience members ranged from those who celebrate the Lunar New Year each year, to those new to the tradition.
2019 marks "the Year of the Pig," which represents friendship, fortune and finance on the Chinese Zodiac.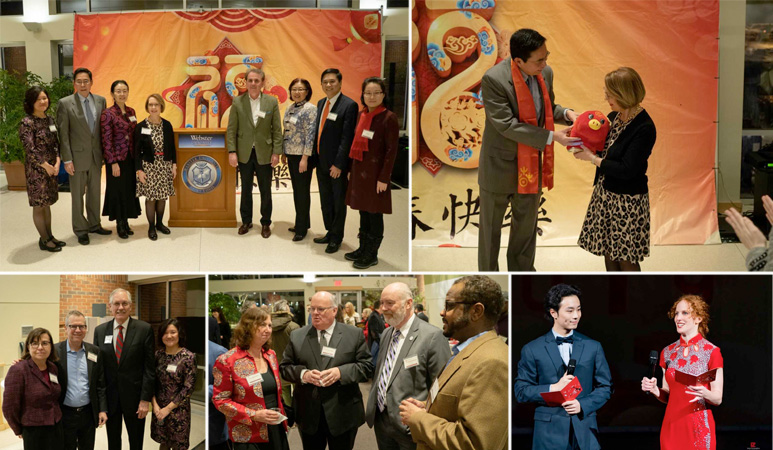 The reception brought together students and faculty, parents and friends, government officials and community leaders from around the St. Louis area and beyond. Remarks and New Year wishes were delivered by Webster University President Elizabeth (Beth) J. Stroble and Provost Julian Schuster, as well as Yinghui Chen, counselor of Education at the Consulate General of the People's Republic of China in Chicago. Carol Comer, director of the Department of Natural Resources, delivered a proclamation on behalf of Missouri Governor Mike Parson.
Performers traveled from both far and near to contribute to the celebration. Local groups and Webster's very own Confucius Institute practiced for months to put together traditional dances and songs. Traveling all the way from China, acrobats from the Changzhi Acrobatics School dazzled the audience with incredible feats of flexibility, strength, and raw skill. Celebrated musicians like violinist Xiaoxiao Qiang of the St. Louis Symphony showcased professional-quality musicianship. Rounding out the show, students from Saint Louis University High School provided the Lion Dance.
Featured performances and performers included:
"The Lion Dance" – St. Louis University High School
"Yellow River" Piano Duet – St. Louis Yangtze River Performing Art Ensemble
"Red Silk Dance" – St. Louis Modern Chinese School
"Chinese YoYo" acrobatics – China Changzhi Acrobatic School
"Erhu Solo" – Confucius Institute at Webster University
"Mountain Flowers Bloom Dance" – St. Louis Yangtze River Performing Art Ensemble
"Acrobatic Contortion" – China Changzhi Acrobatic School
"Spring Festival Overture" instrumental ensemble – St. Louis Yangtze River Performing Art Ensemble
"Picking Vetch" classical dance – University of Washington University Chinese Students International Association
"Power & Strength" acrobatics – China Changzhi Acrobatic School
"Fisherman's Harvest Song" violin solo – St. Louis Yangtze River Performing Art Ensemble performer Ziaoziao Qiang, with accompanist Wen Shen
"Space Walk" acrobatics – China Changzhi Acrobatic School
"Raindrops Against Banana Leaves" dance – Wei Dance
"After School Kids Show" recitation and chorus – Confucius Institute at Webster University
"Hula Hoop" acrobatics – China Changzhi Acrobatic School
"Gesang Flower on the Plateau" Tibetan dance – St. Louis Modern Chinese School
"Shandoan Youth Waltz" chorus – St. Louis Yangtze River Performing Art Ensemble under the direction of Tong Hu