Webster's Confucius Institute Honored with Institute of the Year Award, Nominated for Global Award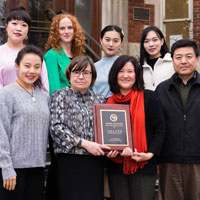 This year at the International Chinese Language Education Conference, held on Dec. 9-10 in Changsha, China, the Confucius Institute at Webster University (WUCI) became one of the 30 Confucius Institutes around the globe to receive the award of Confucius Institute of the Year.
Under the theme of "Innovation and Development of International Chinese Language Education in the New Era," the conference attracted over 1,000 representatives from Confucius Institutes and Chinese language education organizations in over 160 countries and regions.
On behalf of Webster University, Patty Li, the director of the WUCI, accepted the award. The award recognizes the WUCI's significant accomplishments in actively exploring new initiatives (such as the China Spotlight programs, CHINA Town Hall, the Contemporary China Speakers Series, and annual academic conference), in expanding partnership with local organizations and schools, and in improving the scale and quality of Chinese language teaching.
The award embodies all the hard work by WUCI staff and teachers from China, strong support from colleagues and students at Webster University, and generous collaboration from partner organizations, schools, and friends from the broader community.
Nominated for Gateway Global Award
Not only did the Confucius Institute receive the award of Confucius Institute of the Year, but the Webster Confucius Institute was also nominated for this year's Gateway Global Award.
The Gateway Global Award is an annual award presented by The World Affairs Council of St. Louis and Emerson , in partnership with the St. Louis Regional International Partnership. It honors people and organizations who inspire others through their efforts to promote global networks, embrace cultural differences, create welcoming policies and foster global business opportunities. The WUCI was nominated for its quality programming, staff and dedication to connecting St. Louis to the world.
The WUCI continues to work hard to provide resources and tools for Webster University and beyond, to support outstanding language, cultural, and academic programs, and to build people-to-people connections.