Confucius Institute Holds Annual K12 Teacher Workshop Online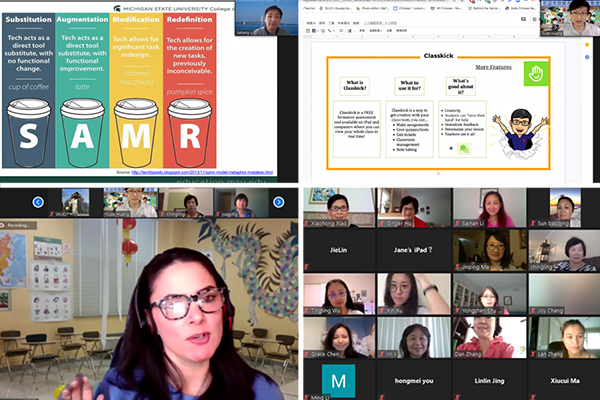 The Annual Teacher Training Workshop for K-12 Chinese teachers was held on Saturday, Aug. 29.
The Confucius Institute at Webster University held its annual Teacher Training Workshop for K-12 Chinese teachers in the St. Louis metropolitan area on Saturday, Aug. 29. For the first time ever, it was held online, a format which mirrored the topic for this year's training: Online Chinese Language Teaching.
K-12 teachers of Chinese language across the St. Louis are navigating many of the same hurdles as teachers in other disciplines as they start the 2020-21 academic year on virtual platforms, but also face certain content-specific challenges. During this workshop, over forty Chinese teachers from throughout the region gathered to learn from some expert practitioners.
The keynote speaker of the workshop was Jiahang Li, an assistant professor in the College of Education and associate director at the Confucius Institute at Michigan State University. At MSU, Li is responsible for the development and implementation of the online Chinese program for secondary level students. His expertise translated into a presentation called "Online Chinese Language Teaching and Course Design," which was filled with useful frameworks and methods for teachers eager to improve their Chinese teaching in an online environment. For example, a key component of his talk was about the "Substitution, Augmentation, Modification, Redefinition (SAMR)" model for integrating technology into language instruction and in the specific context of teaching Chinese online.
Other Presenters Included
Yude Huang, Chinese teacher at St. Louis University High. Huang talked about assessment and feedback in a virtual environment. He offered numerous resources that he finds useful in his own classroom. He also emphasized the importance of developing connections with students and taught teachers how to develop an impressive "virtual classroom."
Lily Childs, Chinese teacher at Mary Institute and Country Day School. Childs gave a talk called "Synchronous teaching challenges, reflections, and strategies." Wearing digital glasses during her presentation, Childs gave useful pointers on everything from how to set up multiple computers for teaching online to how to "gamify" your class.
Ching-Ling Tai, Chinese teacher at Arrupe Virtual Learning Institute. A veteran teacher with over 30 years of experience in both traditional classrooms and online environments, Tai shared a sample online course design based on her self-designed course that she currently teaches. Her topic-based curriculum demonstrated a culturally engaging pedagogy.
This workshop was facilitated by David Liu, the Chinese Director of the Confucius Institute, and by Heather Hughes, Chinese teacher and Department Chair at St. Joseph's Academy.
The success of this workshop came down to the time and dedication of all presenters, hosts, and organizers mentioned above. The Confucius Institute would like to extend a thank you to each of these fine Chinese teachers. The results of their hard work are sure to be felt not only by the teachers who gleaned practical knowledge from this workshop, but also by many hundreds of Chinese students in the St. Louis area.