The Confucius Institute Announces Affordable China Trip Summer 2019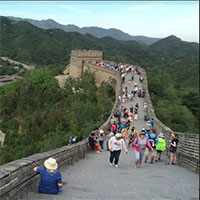 The Confucius Institute at Webster University is pleased to announce an affordable student trip to China summer 2019. Students will explore vibrant Beijing and cosmopolitan Shanghai in a 10-12 day trip in late May/early June.
Students will explore a range of historic sites and scenic spots, from the Great Wall to the Forbidden City, and also have the opportunity to sit aboard a train, traveling at nearly 200 mph. Students will also have opportunities to engage in dialogue with Chinese universities and other organizations.
This trip is affordable! Students are responsible for the cost of the flight, visa fees, and insurance, but all other expenses are paid. Housing, food, local transportation, entry fees to tourist sites, language lessons, and all other expenses are covered by partners of the Confucius Institute.
For more information on how you can take advantage of this incredible opportunity to visit China, email Wei at weizhao96@webster.edu.