The Confucius Institute Virtual Workshop Introduces Beijing Opera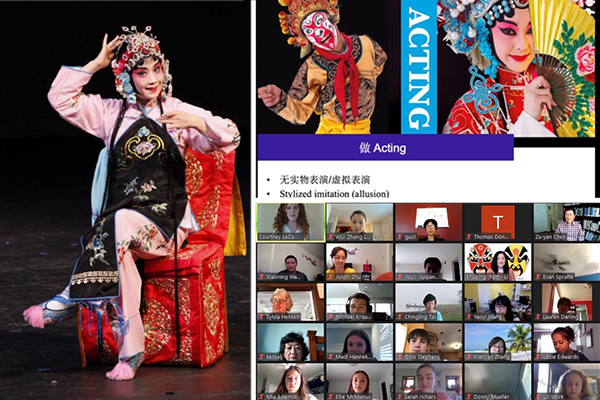 On Saturday, Sept.19, the Confucius Institute at Webster University partnered with the Confucius Institute of Chinese Opera at Binghamton University, SUNY to offer a virtual workshop on Beijing opera to Chinese language learners in the St. Louis community. The event featured a presentation and mini performances by Beijing opera actress Chenfu Zhu.
Attendees learned a bit about the history of this art form before delving into the different roles an actor might play, followed by characteristics of singing, speaking, acting and combat that set Beijing opera apart. One surprising take-away for the audience was that, unlike a typical Western opera, Beijing opera draws heavily on the imagination, requiring spectators to infer much of the environmental context from sparse decorations and actions of the actors.
The workshop drew over 80 elementary, high school, and college-level students, as well as many teachers. As an interactive event, many of these students got involved answering buzzer questions and even imitating the contrived-style voice of Beijing Opera actors as they read out dialogues in Chinese. A Q&A session at the end gave students the opportunity to ask questions that came to them throughout the workshop.
On the whole, this workshop provided a fun way for students to experience an aspect of Chinese culture outside of their normal language class and to gather with other Chinese language learners from around the St. Louis area for a fun and educational experience.