Connect Your Students to Academic Counseling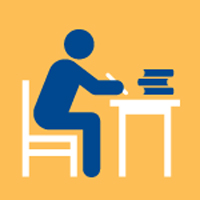 This week is an ideal time to revisit academic counseling and how it can help students.
Academic Counseling is a service provided by the Academic Resource Center to all Webster University students across the worldwide Webster University community.
It involves individual one-on-one sessions for students who would like to develop better organizational and learning strategies.
The sessions can include one-time events or ongoing academic counseling and mentoring services.
Academic counseling services
Academic counseling provides many services on a one-on-one basis to students:
Guidance in improving academic skills
Guidance in improving time management and stress management
Help adjusting to college life
Personalized academic success plans
Referrals to University resources
Support to improve their GPAs
Support to recover from academic probation
Students may meet with an Academic Counselor at any time and as regularly as they would like:
When they feel they are "not doing well" in their course(s)
When they want to improve their academic skills
When they are missing class, falling behind on assignments, or struggling with assignments and/or courses
When they feel stressed and/or under academic pressure
When they want to improve their time management skills
When they are placed on academic probation
Other available services
Additionally, you and your students may be interested in academic success workshops, which are available to classes and student groups and are short, informative sessions on academic success strategies presented by an Academic Counselor on various topics, such as the following:
Adjusting to change in college
Creating a healthy balance
Managing time in stressful situations
Resisting procrastination
Understanding academic expectations
Presentations may be requested by employees and students online by visiting the ARC website .

Upcoming academic success workshops
In Fall 2019, we have two scheduled academic success workshops that we invite you and/or your students to attend. Sessions will be held in the Academic Resource Center, Webster Groves campus, Loretto Hall Room 40, from 4:30 -5:30 p.m. If possible, please RSVP to Lisa C. Hempen, M.Ed.
Thursday, Sept. 19: Developing a Success Strategy: This workshop will help students manage their time using various tools and time organization strategies.
Wednesday, Nov. 13: T he Finals Game Plan: This workshop will help students put together their game plan for preparing for finals.
Scheduling an appointment
Students can schedule an academic counseling appointment with Lisa Hempen, Student Success Coordinator, through the Student Success Portal by going to their My Success Network section, searching for Hempen and selecting Lisa's name.
Then, they just click on the Schedule Appointment button and follow the prompts. (To access the Student Success Portal, students and employees should go to success.webster.edu and log in with their Connections credentials.)
Students can also contact Lisa Hempen via email or by calling 314-246-8284 to schedule an academic counseling appointment directly.