Big Move for Browning Hall Scheduled to Start This Month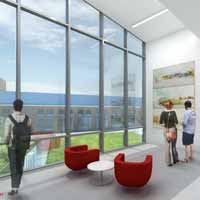 ST. LOUIS - With construction work on Browning Hall, the Interdisciplinary Science Building scheduled to be finished in just a few weeks, the project is taking on a new focus. Faculty and staff are coordinating the move of thousands of items into the new building, a process that could rival the most complex ballet in terms of planning, coordination and effort.
Because of the sensitivity of many of the items involved, ranging from chemicals to science projects that require carefully controlled conditions, the University has hired a small army of experts who will help make this all happen before students return at the end of August.
The load-in will start next week with the installation of new lab equipment, followed by the relocation of existing lab equipment. Ace Laboratory Systems will handle the equipment that requires pre or post move servicing, such as decontamination, calibration and certification. Hazzard Moving & Storage will handle the remaining lab equipment. Cheyenne Logistics will move chemicals and perishables from Webster Hall into Browning Hall. New furniture for faculty and staff offices will be delivered and installed in mid-July.
Currently it's anticipated that all construction on the building will be finished by the end of July and an occupation permit issued by the City of Webster Groves by early August. The first classes will be taught in the building at the end of August. Construction on the building started in spring of 2016.
In October, a two-day celebration of the building and the topics taught within will be held on campus. Oct. 18 will be reserved for VIP's and board members, while Oct. 19 will offer numerous public lectures, events and tours to the community, including a ribbon-cutting ceremony. Watch news.webster.edu for future updates about the two-day celebration.