Safety Reminder - Browning Hall Off Limits to All but Authorized Personnel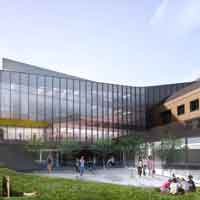 Browning Hall, the Interdisciplinary Science Building, is nearly completed, but construction crews are still on site installing major components of the building and completing punch list work. Because it is still officially under construction, the building and the area inside the fenced-off construction zone are off-limits to all but authorized personnel.
Those who do receive permission to enter the building must wear hard hats, safety vests, long pants and shoes that cover the entire foot. Being caught in the building without permission or without the proper safety equipment could result in fines from the Occupational Safety and Health Administration (OSHA) and could also risk having the entire project shut down.
By the end of the month, almost all of the furniture will be installed in offices, classrooms and laboratories. The final furniture shipment is expected to arrive in the building by the second week of August. It is anticipated that an occupancy permit will be issued no later than the second week of August.
An announcement will be made in Webster Today once the building is officially open.
Thank you for your cooperation and understanding on this matter.