A Conversation with Jin-won Han, Writer of Oscar-Winning Film 'Parasite'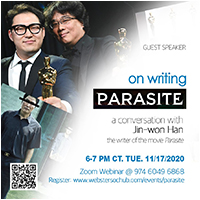 Webster University's Film, Television and Video Production program will host an hour-long conversation with Jin-won Han, writer of the winning 92nd Academy Award Best Picture film "Parasite," on Tuesday, Nov. 17, from 6-7 p.m.
Jin-won Han is a South Korean screenwriter. He is best known for his work on "Parasite" as writer, which earned him critical appraisal and recognition including an Academy Award for Best Original Screenplay at the 92nd Academy Awards in 2020. Han shared this award with Bong Joon-ho, and this made the two of them the first Asian writers to win any screenwriting Academy Award.
The event is open to Webster students, faculty, and staff. Registration is required.
A Conversation with Jin-won Han
Tuesday, Nov. 17, from 6-7 p.m.
Register Here
"Parasite" defies genre – it shifts and reshapes by turns. What begins as an amusing trick on the wealthy Park family gradually morphs into a satirical struggle for social mobility, switching again into a heart-racing scramble to sustain the Kim family's falsehoods, before finally, inevitably concluding with a dramatic and fatal climax. - Another Magazine
Han Jin-won, who made his screenwriting debut on the project and now is nominated alongside Bong for best original screenplay. It was only four years ago that Han landed his first job on a big-budget film production, working as an assistant in the props and transport departments on Bong's sci-fi adventure Okja (2017), produced by Netflix. So how did he get here? - The Hollywood Reporter