Counseling Program Online Information Sessions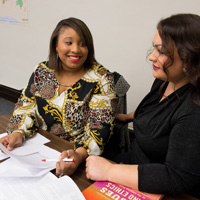 Counseling is a broad profession that focuses on many areas in the lives of individuals, families, and groups. It is the only helping profession that focuses on wellness across the lifespan, and as such is an exciting and ever-changing profession.
Webster University faculty will provide an overview of the Counseling Program at Webster, including information about the new interactive online program, during two online sessions scheduled for Wednesday, July 10 at 5 p.m. CDT, and Thursday, July 11 at 12 p.m. CDT. (Note: The July 11 time is a correction from the original announcement.)
The faculty will also present information about:
Counseling as a career choice. What does a counselor do and how do they help people?
Future employment and career prospects for both Licensed Professional Counselors and School Counselors. Included will be the various jobs that individuals with a counseling degree and/or license are qualified to perform.
How counselors engage in advocacy for clients and students.
Differences between clinical mental health counselors and school counselors.
The role of school counselors within the school system.
How school counselors contribute to the academic, social and emotional, and post-secondary growth of students.
The various settings in which clinical counselors can work.
Ways to expand one's knowledge as a Licensed Professional Counselor to include working with couples, families, and children.
Establishing a private practice upon obtaining licensure
Registration
In addition there will be information about how to apply for these programs. There will also be an allotted time for questions.
Register for the sessions here: Wednesday, July 10, 5 p.m. CDT || Thursday, July 11, 12 p.m. CDT