Ros Thomas in St. Louis from Geneva for Spring 2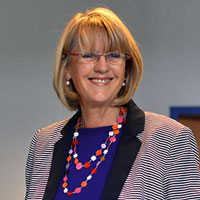 The Department of Professional Counseling in the College of Arts & Sciences welcomes Ros Thomas, associate professor and head of Psychology, Sociology and Counseling Programs at Webster‐Geneva, to the Webster Groves campus for Spring 2 as part of a Faculty Mobility Award.
Thomas is an experienced mental health counselor who has led the BA and MA programs in Psychology, Sociology and Counseling at the Geneva campus since 2007. She joined Webster University in 1991.
She was educated in South Africa, obtaining two BA degrees from the University of Stellenbosch, South Africa, and an MA in Clinical Social Work from the University of the Witwatersrand, Johannesburg, South Africa. She obtained her DPhil at the University of Oxford, Oxford UK.
Thomas designed and implemented the Webster Geneva Annual Psychology Public Lecture Series and co‐convened the first biannual Webster International Counseling Conference in 2011. She recently published "Psychological Stress - Aid Workers in Complex Humanitarian Emergencies," with Lambert Academic Publishing.
Meet Ros Thomas March 14
While in St. Louis, Thomas will teach COUN 5610 Techniques of Counseling. Her office will be in Webster Hall Room 200E.
There will be a reception to welcome her on Monday, March 14, from 3‐4:30 p.m. in the Webster Groves Room (135) in Webster Hall. Please join the community in welcoming our esteemed colleague!