Students Assist Nonprofit Fighting Human Trafficking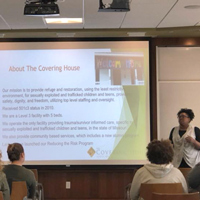 On Wednesday, March 28, representatives from The Covering House, a St. Louis-based nonprofit working to address issues of human trafficking, spoke to Webster University students for an event co-hosted by Webster's Eta Alpha chapter of the Sigma Iota Rho (SIR) Honor Society for International Studies and the History Politics and International Relations Club.
Jessica Wilkins, Reducing the Risk coordinator, and Javier Cardenas, manager of Donor Development and Legislative Affairs, delivered a presentation about the mission of the organization, and about the realities of sex trafficking and exploitation within the United States.
While sex trafficking is commonly envisioned in foreign locations or as some version of the movie Taken, Wilkins and Cardenas explained that this is only part of the picture. St. Louis and Metro East regions are uniquely susceptible to sex trafficking. One reason for this is the cross-country highway systems that make St. Louis a convenient location for traffickers to come and go.
The Covering House provides therapeutic housing for girls between the ages of 13-17 years old, that have experienced sexual trafficking or exploitation in the U.S. They also offer out-client services, supportive adults programs, and facilitate preventative programs for elementary aged students. Learn more on the Covering House at http://thecoveringhouse.org/.
Donation Drive on Campus till April 13
SIR also organized a donation drive for The Covering House, who are in need of office supplies, hygiene products, school supplies and non-perishable foods. The drive on campus will continue through April 13.
The Covering House is a local organization tackling issues that readily affect our community," said Olivia Potter, president of Webster's SIR chapter and of the HPIR Club. "As Jessica passionately explained, St. Louis is among the top cities in the United States with the highest rates of sex trafficking. Raising awareness on this issue involves engaging the community and starting that conversation right here at Webster. The collection drive is a way to support their programs, specifically their long-term therapeutic home which hosts girls who have experienced sexual trafficking or exploitation in the U.S."
If you are interested in supporting the mission of The Covering House by offering a donation, please contact Eta Alpha Chapter President Olivia Potter.
To see other events and activities hosted by the HPIR Club, visit them on Facebook.