COVID-19: Online Instruction Extended to End of Spring Semester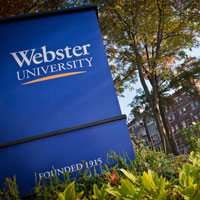 The following message was distributed to community members by the Webster University COVID-19 Task Force on March 18, 2020.
To the Webster Community:
As part of COVID-19 pandemic precautions, Webster University will extend the online delivery of previously scheduled on-ground courses through the end of the spring 2020 semester. On March 11, faculty, staff and students at most campus locations were directed to conduct these courses online through April 3. Since that time, additional Webster locations have moved to online instruction, and the rapidly developing conditions and guidance from public authorities has made clear that extending this to the end of the semester is the prudent move at this time.
We are well positioned to make this move. Webster has been a leader in online delivery since 1999, and that strength has been demonstrated once again by the impressive effort and coordination from our staff and faculty in helping students and colleagues throughout this situation. This move will provide certainty for faculty and students while enabling other operations to redeploy in full support and enhancement of an online-only term.
In conjunction with this decision and as part of additional COVID-19 precautions, the University is also moving to a Modified Operations status, where University units will focus on providing necessary support for continued – and much enhanced – support for online learning. Modified Operations will be implemented in phases through March 25, with plans to continue to the end of the semester, subject to changing conditions. Under Modified Operations, an increasing number of staff across units may transition to remote work where possible. Others will coordinate to continue on campus to fulfill essential university operations such as general maintenance of facilities and support for students who remain on campus due to extenuating circumstances.
Division heads have been preparing plans for Modified Operation status, and the execution of that transition and the details of related Human Resources policies are be communicated to staff separately.
The operational changes necessitated by this pandemic have created difficulties and new challenges for every member of our community. Your patience, resolve and insightful communication with members of the COVID-19 Task Force has been vital, and much appreciated by each of us.
The Task Force will continue monitoring conditions, convening to assess the latest information and communicating updates at the COVID-19 site. Included on that site are not only health, safety and travel guidance, but also resources for faculty, students and staff to help navigate this situation. The site will continue to be updated with today's decision and additional resources.
Please stay safe and take care.
Members of the COVID-19 Task Force