Limitations on Gatherings at Main Campus Extended Indefinitely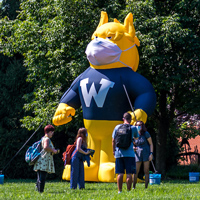 The following announcement and policy update from the Task Force on Transition & Adaptability was posted on Sept. 16. NOTE: This policy statement pertains to hosting events and gatherings, not to class and course delivery.
As we monitor regional conditions and guidelines to limit spread of the coronavirus, the Task Force on Transition & Adaptability has indefinitely extended the limitation on gatherings and events at the main campus in Webster Groves.
This limitation was initially imposed from the start of the fall term until at least Sept. 20 as part of the phased return to campus for fall. The current regional environment warrants extending this limitation indefinitely, and we request our community members adjust plans accordingly.
The requirements outlined in the Policies and Procedures on Events and Gatherings document remain in effect. Anyone seeking to hold an event or gathering must review and comply with the policy, including securing approval and registering their event with Public Safety at least two weeks prior.
Thank you for your review and compliance. As with other safety measures instituted during the pandemic, this policy is in place to provide guidance to support the conducting of business, operational and co-curricular matters while adhering to current governmental directions and university procedures.
The Task Force on Transition & Adaptability