COVID-19 Task Force message on CARES Act funding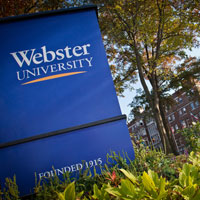 The following message was distributed by Webster University's COVID-19 Task Force on April 22, 2020.
To the Webster University Community:
We want to inform you of Webster University's progress in making CARES Act funding available to eligible students. The CARES Act is U.S. federal legislation that provides financial support to individuals and businesses affected by the COVID-19 pandemic.
The U.S. Department of Education (ED) has indicated that students, based upon criteria established by the ED, will be able to apply to receive funding to help meet some of the costs related to items such as course materials, technology, housing, food, health care and childcare.
Since the CARES Act was announced, the U.S. ED has continued to refine its guidance on this process for colleges and universities. Some universities and colleges that had already started accepting applications have suspended them following the latest ED guidance on Tuesday, April 21, to ensure compliance.
Webster University has established a CARES task force team, which is assessing how the student portion of the CARES funds may be distributed and what documentation is needed from eligible students who apply for funds.
Webster had not yet launched an application process before Tuesday's ED update due to pending guidance. In the best interest of our students, our CARES team continues to work as quickly as possible to create a compliant process for providing these funds to eligible students. When the application is ready, we will communicate it to you and also make it available on Webster's COVID-19 pages.
The COVID-19 Task Force