Closure of Student Housing in Webster Groves due to COVID-19 Precautions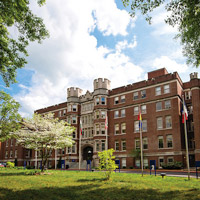 The following message was distributed by the COVID-19 Task Force to the Webster University community on the evening of March 16, 2020:
To the Webster Community:
The health and safety of our students, faculty, and staff is our highest priority, and that concern has guided our deliberations on how best to continue supporting Webster's educational mission through the quickly evolving news and advisories related to the COVID-19 pandemic. Among these are recommendations to limit person-to-person contact to the extent possible, including today's White House guidance to limit gatherings to groups of 10 or fewer.
Therefore, tonight in Webster Groves, out of an abundance of caution, we have decided to initiate the closing of all student housing facilities, on and off campus. This does not mean all students will be asked to move out immediately; rather, Housing and Residential Life staff will begin assisting residents, until March 22, through a phased departure based on the distance of their permanent address from the main campus.
All resident students in Webster Groves will receive messaging from Housing and Residential Life with instructions on next steps shortly.
We know this is not the news some resident students wanted to hear, but we reach it in the interest of safety as we continue to adapt to changing conditions. This decision was made after consultation with staff and based upon information and advisories from the Centers for Disease Control and Prevention and local public authorities in the St. Louis area.
Throughout the past few weeks, we have supported students who sought to remain in on-campus housing while monitoring advisories from public health authorities. Many have already elected to move out or stay home after Spring Break, as the University converted these students' on-campus courses to online delivery.
Under this latest development, students with extenuating circumstances who do not have access to alternative housing may request to remain on campus. We understand that students may have unique situations that prevent them from moving to alternative housing, and we want to hear from those students. Requests to remain in campus housing will be reviewed, and students will be contacted for follow up information related to these requests as needed. Our goal is to serve students while ensuring that we have appropriate accommodations for specific needs and staff available to support students in those accommodations. Students with questions or making these requests should contact the Resident Housing & Residential Life Office at housing@webster.edu or 314-246-4663.
We remind the community, including the resident students who will soon be moving out, to continue to practice social distancing and other safety measures amid efforts to slow the spread of COVID-19. Please continue to check the webster.edu/covid19 site for the latest updates and resources.
The COVID-19 Task Force