Career Planning and Development Center Host U.S. Department of State, Diplomat in Residence, Amanda Johnson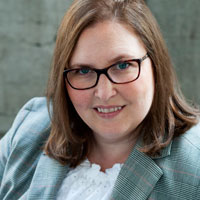 The Career Planning and Development Center will host the U.S. Department of State, Diplomat in Residence, Amanda Johnson, on Feb. 7. Johnson will conduct classroom visits in the Walker School of Business and Technology in room 133 and host a lunch and learn from noon-1 p.m.
This event is open to all Webster University students, faculty and staff, both in-person and online. You can register through Handshake, Webster's online career management system.
Johnson will be sharing information about her role and the various IT, engineering, healthcare, federal law enforcement, international affairs, legal, business, management, and public relations careers and student programs with the U.S. Department of State.
"America's foreign policy is designed to amplify the nation's voice and extend its reach in areas critical to the daily lives of U.S. citizens," said Amanda Johnson, Diplomat in Residence. "We work to ensure our country's diplomatic leadership enhances our national security and reflects American values. You can become part of America's leadership, contributing your skills, innovative thinking, and global perspective to support our efforts at home and abroad."
With over 276 diplomatic facilities worldwide and at home, the Department of State has great public service careers and benefits. The U.S. Department of State also offers a wealth of student programs, including paid and unpaid internships, study abroad, and paid fellowships.
"I am excited to welcome Amanda to our campus," said Trezette Dixon, assistant director, Employer Relations. "This is another opportunity to offer programming to not only our students at the home campus but our global community of students worldwide. It also allows us to strengthen our students' access to national and international career opportunities."