Browning Hall Recognized for Innovation in Heating and Air Conditioning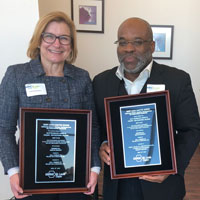 ST. LOUIS - Browning Hall, the Interdisciplinary Science Building, was honored with a first-place technology award for "Outstanding Achievement" from the American Society of Heating, Refrigerating and Air Conditioning Engineers (ASHRAE). The award was presented by the St. Louis Chapter of ASHRAE during their annual awards dinner Monday night, April 16, 2018.
Craig A. Miller, Sr., Webster University's director of facilities planning and management and Lisa Sombart, P.E., the Engineer of Record on the project from William Tao & Associates Inc. accepted the award on behalf of all the people who helped design and build the new heating, ventilation and air conditioning (HVAC) system. Browning Hall's HVAC was tied into the existing chilled water loop system and chiller plant located in the lower level of the EAB.
This not only improved the efficiency of the EAB building but also reduced the carbon footprint of both buildings. With the cooling distribution spread among the two buildings, the University's energy usage for cooling Browning Hall and the EAB also have been reduced. Additional measures recognized include heat recovery from lab exhaust, innovative lab piping systems, and highly efficient lighting and lighting controls.
This is not the first award for Browning Hall. Last October, Browning Hall was recognized for its design excellence this year by the American Institute of Architects (AIA) St. Louis Chapter. In addition, Miller has been recognized for his work at Webster University, including his management of the Browning Hall project. Last year, the St. Louis Business Journal honored him during their Diverse Business Leader Awards.
Construction on Browning Hall started in the spring of 2016 and was completed in August of 2017. Features include new laboratory classrooms, a dual computation laboratory/classroom, faculty offices and staff offices, and a 129-seat auditorium. Browning Hall houses the departments of Anthropology and Sociology, Biological Sciences, International Language and Cultures, Nurse Anesthesia, Nursing, Psychology and the Institute of Human Rights.
The building was designed by Cannon Design, with Paric Corporation as the general contractor. For more information on Browning Hall, visit http://www.webster.edu/arts-and-sciences/browning-hall.html.