Woodrow Wilson Fellow: 'Can We Still Save the Environment?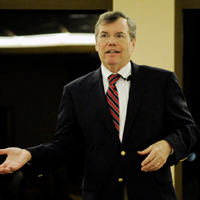 Webster University welcomes Robert K. Musil to campus in April as the Woodrow Wilson Visiting Fellow.
Musil is president and CEO of the Rachel Carson Council, the legacy organization envisioned by Carson and founded in 1965 by her closest friends and colleagues. He is also a senior fellow and adjunct professor at the Center for Congressional and Presidential Studies, School of Public Affairs, American University, where he teaches about climate change and American environmental politics.
He was also the longest-serving executive director and CEO of Physicians for Social Responsibility (PSR), winner of the 1985 Nobel Prize for Peace.
April 25: Contemporary Conversations Event
Among the events while he is on campus will be a public talk in the "Contemporary Conversations for a Connected World" series hosted by President Beth Stroble: "Rachel Carson's Legacy: Can We Still Save the Environment?" will take place at 4:30 p.m. Wednesday, April 25, in the East Academic Building, Room 253/262.
A reception and book signing will follow at 5:30 p.m. RSVP for this event to higgins@webster.edu.
The East Academic Building is at 545 Garden Avenue. Public parking for the event is available across the street in the Garden Park Plaza garage.
Musil will also give a talk that day at noon (see details in the Sustainability Week item below).
April 23: Community Event at Novel Neighbor
Earlier that week, Musil will appearing at the Novel Neighbor, 7905 Big Bend Blvd. in Webster Groves, for a special reading and lively discussion of his 2015 book "Rachel Carson and Her Sisters: Extraordinary Women Who Have Shaped America's Environment." Hear Musil's unique insights into the evolution of the modern environmental movement and the influence of brilliant, determined women on our perceptions and experience of nature throughout history.
Observations from Musil's most recent book, "Washington in Spring: A Nature Journal for a Changing Capital," will also provide a context for considering the impact of presidents, poets and writers on the natural world in our nation's capital.
Both books will be on sale at the event on Monday, April 23, 5-6 p.m. at The Novel Neighbor, 7905 Big Bend Boulevard, Webster Groves, Missouri.
Webster University Book Club, Sustainability Week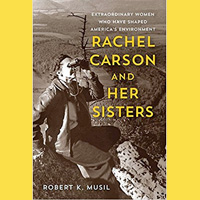 Also on April 23, the Webster University Book Club will have a special April session at noon in the Library Conference Room to discuss Musil's book, "Rachel Carson and Her Sisters."
All community members are always welcome to Book Club discussions. Kelsey Wingo, Webster's sustainability planner, will lead the book club discussion.
Wingo is also leading the organization of Webster's second annual Sustainability Week April 23-27, which coincides with Musil's visit to Webster.
Included in the Sustainability Week activities is a "lunch and learn" lecture with Musil about the vision of a world led by youth raising their voices and their hands in politics. That talk is at noon, Wednesday, April 25, in East Academic Building room 253-262.
Learn more about Sustainability Week activities here.
About Robert K. Musil
Musil also has been a visiting scholar at the Churches' Center for Theology and Public Policy, Wesley Theological Seminary, where he taught about religious responses to global warming and security threats.
From 1992-2006, Musil was the longest-serving executive director and CEO of Physicians for Social Responsibility (PSR), winner of the 1985 Nobel Prize for Peace. During his tenure, he nearly tripled PSR's membership, budget, and staff. He is a graduate of Yale and Northwestern Universities and the Johns Hopkins School of Public Health and has been a visiting honorary fellow at the London School of Hygiene and Tropical Medicine and of Pembroke College, Cambridge University.
Musil received an honorary Doctor of Humane Letters (LHD) from Mitchell College and joined their Board of Trustees in 2009. In spring 2011, he was also awarded an honorary Doctor of Science (Sc.D.) at Lincoln Memorial University. A Woodrow Wilson Foundation Visiting Fellow since 2006, he is widely sought as a campus and civic lecturer. Musil has also taught at Northwestern, Temple, St. Joseph's and LaSalle Universities.
Musil specializes in contemporary global sustainability, security, and health issues, as well as Cold War history, culture, and policy. He is the author of numerous articles and Hope for a Heated Planet: How Americans are Fighting Global Warming and Building a Better Future (Rutgers University Press, 2009); Rachel Carson and Her Sisters: Extraordinary Women Who Have Shaped America's Environment (Rutgers Press, 2014) and Washington in Spring: A Nature Journal for a Changing Planet(Bartleby Press, 2016).
He helped launch PSR's environmental program in the early 1990's and led PSR campaigns for safe and affordable drinking water, clean air, and to prevent toxic pollution and global climate change. He has met regularly and worked closely over the years with leading public figures including presidents and vice presidents, numerous cabinet members, and Congressional leaders. He also initiated PSR's U.S.-Mexico Border Project in El Paso and Juarez, Mexico and has represented PSR at international environment negotiations in Montreal, Kyoto, Johannesburg, Geneva, and elsewhere.
A long-time leader of the environmental and nuclear arms control movements, Musil has also been executive director of the Professionals' Coalition for Nuclear Arms Control, the SANE Education Fund, the Center for National Security Studies Military Affairs Project, and CCCO: An Agency for Military and Draft Counseling. He is a former Army Captain who taught communications and policy at the Defense Information School, Ft. Benjamin Harrison, Indiana.
For 14 years, Musil was also the executive producer and host of "Consider the Alternatives," a half-hour weekly radio program syndicated to over 150 stations with over 2 million listeners. He has been the producer of numerous ground-breaking independent video documentaries and public radio documentary series including "One Blue Sky: Health and the Human Environment." Musil is two-time winner of the Armstrong Award for Excellence in Radio Broadcasting.