Webster Team Places 2nd at Mastercard's GHECC CyberCup
The Webster University students competed in the Gateway Higher Education Cybersecurity Consortium (GHECC) CyberCup sponsored by Mastercard the weekend of Nov. 15-17. The Webster team, the CyberLoks, brainstormed ways to make digital lives more secure, winning second place overall.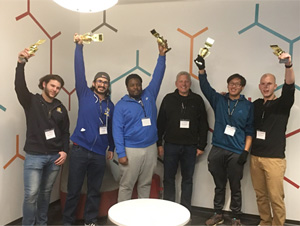 Webster had the highest participation rate from any university: six undergraduates on CyberLoks team and one recent graduate on the Fantastic Four team.
The Webster University CyberLoks team included Issa Al-Zadjali, Nedzad Durakovic, Ryan Jennings, Jakob Michelizzi, Leeam Shutzman and Bently Sangrath. They were led by Doug Kelly, assistant professor in the Math/Computer Science Department, part of Webster University's George Herbert Walker School of Business & Technology.
Verifier Rx: Helps senior citizens safely purchase prescriptions online
Over the course of the weekend, the CyberLoks team created an innovative solution, called Verifier Rx, that enables senior citizens to safely and reliable shop for and purchase affordable pharmaceutical prescription drugs online. The team programmed in JavaScript, C++, and HTML5 to create a web application extension in the Chrome browser. Using the Rx accredited database from the National Association of Boards of Pharmacy (VIPPS), the team inserted a simple and intuitive graphic, a red or green checkmark in a black circle, so senior citizens would be assured they were visiting a trusted pharmacy drug website.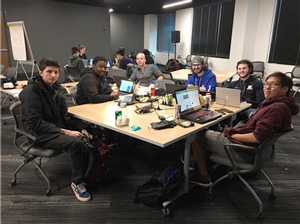 "The competition wanted each team to solve a problem evolving digital protection for senior citizens like credit card fraud, bank fraud, call spoofing, fake pharmaceutical sites," said Jennings. "Basically, scams that target senior citizens.
"We built a web extension the reads the URL of the website the person is on and checks it to see if it is a verified safe website to purchase pharmaceuticals from. If it is it alerts the user that the website is safe to use and if not it alerts the user to be careful that the site may be a scam."
In the end, the CyberLoks won second place for their innovative solution and took home fond memories, individual trophies and a $50 Mastercard gift card for each team member.