Cyber Explorers: Stimulating girls' interest in cybersecurity, computer science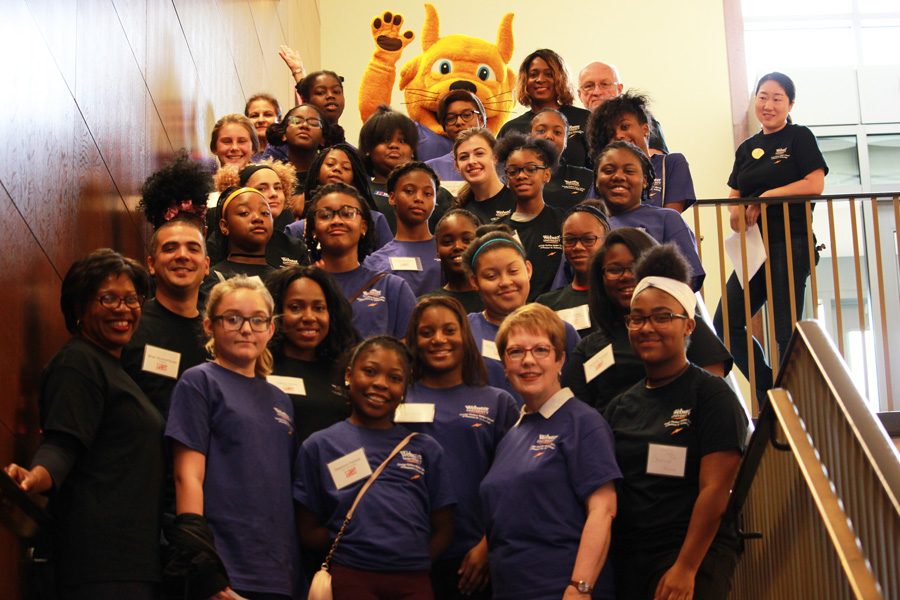 Webster University hosted a Cyber Explorers Workshop in partnership with MasterCard and the George Herbert Walker School of Business & Technology at the home campus in Webster Groves on Saturday, Oct. 21. The day began with President Elizabeth (Beth) J. Stroble and the dean of the George Herbert Walker School of Business & Technology, Simone Cummings, welcoming the 25 aspiring young 8th grade leaders from various St. Louis-area school districts.
The event was covered by St. Louis Public Radio ['I think I can do it': Middle school girls learn to build a computer at Webster University] and included commentary from event organizer and Webster's director of corporate relations, Quen Agnew, and Cummings.
A series of interactive training sessions focused on stimulating interest in cybersecurity and computer science was led by Math/Computer Science Department faculty member and Webster Cybersecurity program lead Paul Frazier. The students also learned about cybersecurity in a series of short sessions focused on the use of a variety of social media, including Facebook, Instagram, Snapchat, and Twitter, as well as cyberbullying issues.
Students also gained knowledge regarding the basic architecture of a computer and learned to do some basic programming by working on building their own Raspberry Pi mini-computer.
Program Description
The Cyber Explorers Workshop at Webster University is designed to stimulate interest in cybersecurity specifically -- and computer science more generally. Currently, there are more opportunities for employment in cybersecurity than there are individuals trained to fill these positions. According to the U.S. Bureau of Labor Statistics, employment in this area is expected to grow at a rate of 18 percent per year, which is much faster than average.
Just as important, demand for cybersecurity professionals is expected to remain high for the next decade due to the increase in threats from hackers.
More than 209,000 cybersecurity jobs went unfilled in 2016 and the demand is only expected to increase. Given the fact that the median salary in this field is approximately $90,000, cybersecurity employment represents a tremendous opportunity for women. Unfortunately, women are grossly underrepresented; only 11 percent of the world's cybersecurity professionals are women.