In Memoriam: Jack Canepa, Longtime Art Professor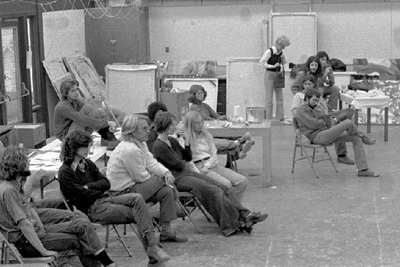 Webster University's Department of Art, Design and Art History remembers longtime faculty member Jack Canepa, who passed away Feb. 6, 2017. A brilliant artist and master teacher, he was professor at Webster from 1971 till his retirement in 1994.
Canepa was director of the Loretto Hilton Art Gallery and taught painting, drawing, conceptual art, and art history. He also fostered communities within Webster and throughout the city through provocative discussion gatherings and weekly badminton competitions at the regulation court in his back yard at the corner of Edgar and Big Bend.
He graduated from St. Louis University High School and attended Washington University. His college career was interrupted from 1950-1952 by an Army stint in Korea and Japan.
Upon his return, Jack made a commitment to pursue art professionally and enrolled at the University of Denver where he received a B.F.A. and M.A. in painting. In the 1960s he lived in Paris, London, and New York before returning to St. Louis.
Services celebrating his life were private. In lieu of flowers, donations to PBS Channel 9 Network or St. Louis Public Radio are appreciated.
Read the full obituary for Francis John "Jack" Canepa here.