Farewell Reception for Enrollment Management's Dan Perkins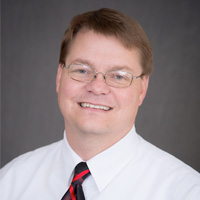 Dan Perkins, director of Enrollment Technology and interim director of Undergraduate Admission, has announced his resignation after 15 years with Webster University. He has accepted a newly created position at the University of Kansas as their communications manager for enrollment management.
Perkins joined Webster in 2004 as the director of Marketing & Interactive Media and led the team that designed the University's logo. Other contributions from Perkins included creating the University's first online application process, developing a comprehensive St. Louis undergraduate admissions recruitment campaign using the "Destination: A Better U" theme, implementing a web content management system for St. Louis and all U.S. extended campus websites, and developing an online store concept for delivering print-on-demand publications to all campuses using a central database. During his time at Webster, he received the Staff Member of the Year award in 2007 and the Gorlok Greats award in 2017
In 2011, Dan assumed the new position of director of Enrollment Technology where he oversaw the implementation and development of Recruiter. In 2017, he also assumed duties as the interim director of Undergraduate Admission.
"It has been a personal pleasure and professional honor to work with Dan," said Robert Parrent, vice president for Enrollment Management & Student Affairs. "His creativity, exemplary work ethic, and unparalleled commitment have significantly enhanced the university's support of student recruitment, retention, and graduation. The EMSA division extends its best wishes to Dan as he assumes his new role at KU."
Farewell Reception Jan. 14
All are invited to a farewell reception for Perkins, to be held on Monday, Jan. 14, from 3-4 p.m. in the Webster Groves Room, Webster Hall room 130. Stop by and wish him well before his departure on Jan. 15.