Webster Dance Performs at ACDA Conference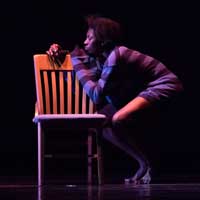 Members of Webster University's Department of Dance attended, presented, and impressed with their performances at the Central Region American College Dance Association (ACDA) Conference, which was held March 11-16 at Anderson University in Indiana.
The conference attracted 30 other colleges and universities from across the region and included daily dance technique classes, discussions, presentations and performances followed by feedback sessions.

"Thanks to the Student Government Association's (SGA) support of the Dance Club, attending this annual event was possible for us," said student Abby Contreras, a member of the Dance Club. "The experience of attending the ACDA conference ignites the department and opens up networking and growth opportunities for each of us."

Webster dancers presented two choreographic works in the Adjudicated Concerts and an additional piece in the Informal Concerts. Bachelor of Fine Arts (BFA) candidates Cheyenne Phillips and Taiya Deria presented their pieces "While Drifting" and "A Crumpled Piece" on March 12, in the first Adjudicated Concert. BFA candidate Tyra Kopf performed "Part III: The Product" on March 14 in the first Informal Concert.
Deria's self-choreographed solo, "A Crumpled Piece," was selected by the adjudicating panel to perform a second time during the week at the culminating Gala Concert on March 15. Deria's solo was one of 11 pieces chosen from the 44 that were presented throughout the week.

"Webster University was well represented in each performance by the caliber of the dancers and choreographers," said Beckah Reed, artistic director for the Department of Dance in Webster's Leigh Gerdine College of Fine Arts. "We take great pride in the technical execution, artistic expression and professionalism that each student exhibited on stage and in daily classes."

Reed taught a Moving Meditations class, which integrates mind, body and spirit for artists. Department chair James Robey taught a Parkour for the Dance Floor class integrating quadrupedal and developmental movement techniques found in Parkour to a contemporary modern dance class.