Snapshots: 'Dance Through the Decades'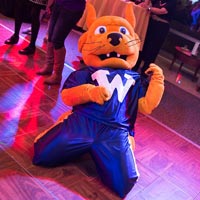 They came from every decade and every part of Webster University. They were the presenters, the demonstrators, the dancers and the shakers who put on a show from morning till night on Nov. 13 for "Dance Through The Decades," one of the final events of an illustrious yearlong centennial celebration.
From the Lindy Hop and the Cha Cha Slide to Ballet and Classical Thai Dance. From the roaring 1920s to the hip hop of today, students, alumni, faculty, staff and community friends helped fill an eclectic day of dance that closed with a reception and a Campus Activities formal for everyone at The Edge of Webster.
The next night, the Centennial Gala raised more than $1.2 million for student scholarship funds, capping a marvelous formal finale to a milestone year in Webster University history.
See and share more snapshots from the day's many events, performers and presenters in the following two Facebook albums (album 1, album 2).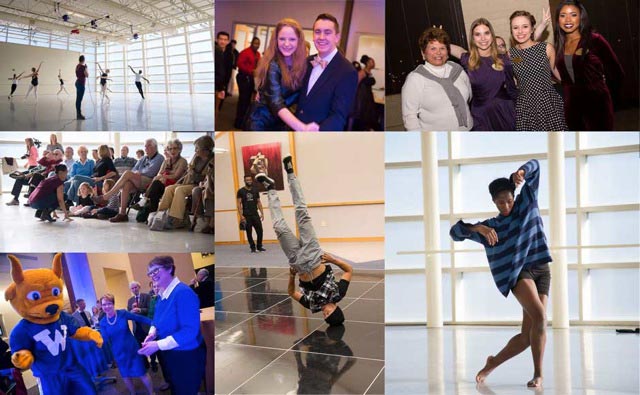 Below is the full list of performers and themes from the day:
Decades - Social Dance
Location: The East Academic Building Rooms 253/262
9:30 - 10 a.m.
1920s, 1930s, 1940s
Presented by Ron Gibbs and Lara Turek '04, MFA '11
Ron Gibbs is the Development Officer for the Leigh Gerdine College of Fine Arts. Ron comes to us as a Broadway veteran and director/choreographer. While living in New York City, he was the assistant to the Tony-award-winning Director/Choreographer Susan Stroman. Ron has worked with such icons as Elaine Stritch, Mickey Rooney, Eartha Kitt and the irrepressible Carol Channing.

Lara Turek, serves as the Development Officer, Research & Analysis at in the Office of Advancement. Prior to her career in the nonprofit industry, Lara spent 6 years as a Radio City Rockette and a total of 10 years as a professional dancer.
11 a.m.
1950s and 1960s St. Louis Teen Scene
Presented by Ron (Johnny Rabbitt) Elz, KMOX/CBS Radio
Growing up in the 1950s and 1960s in St. Louis. Remembering the S. S. Admiral, the building of the Gateway Arch, Elvis, the St. Louis Browns, Ike and Tina Turner, Gaslight Square, The Beatles, crime, Radio and TV, Vincent Price, burlesque...and many more blasts from the past.
12 p.m.
The Fifties and Sixties: Change and Continuity
Presented by Professor John Chappell, Department Chair, History, Politics and International Relations
A discussion of some of the important distinctions, but also the significant connections between the two decades.
1:30 - 2 p.m.
1970s and 1980s
Presented by Radio Rich Dalton
"We Were Going to Change the World in the 60's! So What Happened? A Very Un-Scientific Look at the 70's and 80's." A look back with legendary KSHE rock DJ, Radio Rich Dalton.
3 - 3:30 p.m.
1990s and 2000s Hip Hop
Presented by Kevin Hamilton, student
An exciting experiential look at social dance trends from Hip Hop culture from the 1990s to the present. Attendees are invited to participate in learning Hip Hop dance steps.
5 - 7 p.m.
Reception
President/Provost Remarks. Then, an All Decade Dance Party in the EAB Edward Jones Commons
Centennial Formal
Location: The Edge of Webster
8 – 11 p.m.
Centennial Formal
Presented by Campus Activities
The 2015 Centennial Formal, a free event with music, food and dancing for the entire Webster University community at The Edge of Webster, 359 Marshall Ave, Webster Groves, MO 63119.
Contests for Best Dressed of the Decade Semi-formal, select your favorite decade and embody those fashions
Dance Films
Location: The Winifred Moore Auditorium
Presented by the Webster Film Series. Enjoy an eclectic selection of dance films and documentaries.
11 a.m.
Singin' in the Rain (1953)
Gene Kelly, Debbie Reynolds and Donald O'Connor star in one of the most endearing musicals - filled with memorable songs and lavish dance numbers. Set during the advent of "talkies," Don Lockwood (Kelly) must overcome his co-star's shrill voice and her jealousy for his love interest and rising star Kathy Selden (Reynolds).
1 p.m.
Stormy Weather (1943)
The relationship between an aspiring dancer (Bill "Bojangles" Robinson) and a popular singer (Lena Horne) provides a review of the great African American entertainers of the early 1900s including performances by Robinson, Horne, Dooley Wilson, Cab Calloway, Katherine Dunham, Fats Waller, and the Nicholas Brothers.
2:30 p.m.
American Bandstand Documentary (1980s)
Looking back at the beginning of "American Bandstand" and the Philadelphia years 52-64, the film features the original dancers and vintage footage of the teenage regulars and behind the scenes look at a 1950's and 60's teenage institution.
3:30 p.m.
Soul Train: The Hippest Trip in America (1980)
A special screening celebrating the legendary dance-party show that made television history and set trends in soul and R&B music, dance, and fashion. Relive those incredible "Soul Train" days with historic footage of artists including Gladys Knight & The Pips, Stevie Wonder, B.B. King, Elton John, and the unforgettable "Soul Train" dancers.
Performance Dance Exhibitions
Location: The Jean & Wells Hobler Center for Dance
Presented by students of the Department of Dance
12 - 12:30 p.m.
Ballet
Performances of classical and contemporary ballet styles featuring a staging of the Sugar Plum Pas de Deux by Dance St. Louis Executive and Artistic Director Michael Uthoff.
2 - 2:30 p.m.
Modern Dance
An exploration of modern dance and the difference between modern, postmodern, and contemporary styles featuring James Robey's Little Blue Something that premiered at the American College Dance Association conference in 2015.
4 - 4:30 p.m.
Jazz and Tap
Jazz, Musical Theatre, and Tap Styles featuring work staged by Lara Teeter.
7 - 7:30 p.m.
Aerial
The elegant beauty of aerial dance lead by Monica Bremmer of Dance En L'air.
Cultural Dance Performances
Location: The University Center: Sunnen Lounge
11 a.m.
Break Dance
Presented by Raii Saleem Morehead '13, Alumni
A demonstration of break dance styles including popping, locking, breaking, and krumping.
1 - 1:30 p.m.
Thai Classical Dance
Presented by students of the Department of Dance
A presentation of Thai Classical Dance from the study abroad program at Webster University Thailand featuring dances learned from the Patravadi School Hua Hin, Thailand.
2:30 - 3:30 p.m.
The Story of Hula Dancing
Presented by Dori Neumeier