Webster University Dance Ensemble 2017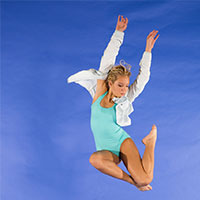 Webster's Leigh Gerdine College of Fine Arts Department of Dance presents the Webster University Dance Ensemble 2017(WUDE), under the artistic direction of Beckah Reed.
This year's concert shares contemporary choreography from international artist Nejla Yatkin; environmental performer and alumna Heather Sultz, and a collaboration with the dancers of Big Muddy Dance Company, with choreographer Thom Dancy. Webster's fine faculty concludes the diverse program with aerial dance, ballet and a contemporary piece that explores some of the challenges of technology in 2017.
WUDE will perform on the Virginia Browning Mainstage of the Loretto-Hilton Center, 130 Edgar Road on Friday and Saturday, April 28 and 29 at 7:30 p.m. and Sunday, April 30 at 2 p.m. Admission is $15 for the general public, and $7 for students and seniors.
Contact the Fine Arts Hotline at 314-968-7128 for tickets, or dance@webster.edu for more information.
Artist Concepts
Thom Dancy, a performer with Big Muddy, has choreographed a work for the combined casts of Big Muddy Dance Company and Webster dancers that premiered in January of 2017 at the Sun Theatre. This particular version of the work at Webster is edited, both in the storyline and casting. "The work, based on and using the podcast "The Apartment," is a study of the story inherent in the radio interview, breaking into dance when words are no longer sufficient to convey meaning," says Dancy.
Monica and Graciela Newsam co-choreographed A New World, which uses eight dancers, four trapezes, a lyra and several silks for the Webster performance, which is the last part of a longer aerial dance choreography named Mar de Zvr – Mito y Realidad, which premiered in Panama City, in the summer 2017. This one and a half hour choreography is inspired by the life of the Spanish conquistador Vasco Nuñez de Balboa. Balboa who is known for the discovery of the South Sea, today known as the Pacific Ocean, made the world acknowledge that earth was round. With his discovery a new era started, people from different cultures came to the new continent leaving the past and accepting the challenges of A New World.
This one and a half hour choreography is inspired by the life of the Spanish conquistador Vasco Nuñez de Balboa. Balboa, who is known for the discovery of the South Sea, now known as the Pacific Ocean, made the world acknowledge that the earth was round. With his discovery a new era started, people from different cultures came to the new continent leaving the past and accepting the challenges of 'A New World.'
The most recent co-production between Gramo Danse and NEWSAM AERIAL DANCE was the world premiere in August 2016 of Mar de Zvr – Mito y Realidad, an aerial and contemporary dance production which tells the fantastic story of Vasco Nunez de Balboa's memorable journey across the Isthmus of Panama, culminating with the sighting of the Pacific Ocean.
Describing the 2017 premier, Department of Dance chair James Robey said, "I am fascinated with how technology and social media can both connect us in ways never before imagined and disconnect, fragment us. In Anechdoche, the dancers explore both sides of that aspect in a contemporary work that utilizes technology, explores virtuality, and searches for connection."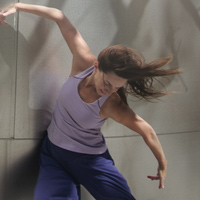 Alumna Heather Sultz spent an intensive week in February in residency with Webster students, creating a group work poignant with the tones of the current climate of the United States, "An exploration of language as a bridge to connection, understanding, and community."
Michael Uthoff describes his pas de deux for Webster University Dance Ensemble, "This work was conceived so as to use three works, independently choreographed, that somehow worked with the theme I was tackling and that musically and stylistically worked as a trio. The dances are named "Dances of Alone", not to be thought off as "dance of loneliness". These are works of one and two people in quiet moments that permit them to be themselves. Enjoy!"
Nejla Yatkin in speaking of her premier work "Cotillion A", states, "Cotillion is a social dance popular in 18th century Europe and America. Originally for four couples in square dance - it was a courtly version of an English country dance the forerunner of the quadrille and, in the United States, the square dance. It became so elaborate that it was sometimes presented as a concert dance performed by trained and rehearsed dancers. The later "German" cotillion included more couples as well as plays and games. But in my case I sort of envisioned a dance for our modern times and inspired by the idea of the Cotillion."
ARTIST BIOGRAPHIES
Thom Dancy, a native of North Carolina, has danced for Milwaukee Ballet's studio company, Grand Rapids Ballet, the Big Muddy Dance Company, and worked as a dancer and audition assistant for the Muny for the past three seasons. Thom has choreographed for Ballet Nebraska, Milwaukee Ballet II, Danceworks Chicago, Southern Illinois University Edwardsville, and presented work at Spring to Dance, Youth America Grand Prix, and the McCallum Dance Under The Stars Choreography Competition. Thom has also taught master classes in contemporary dance for major intensives throughout the Midwest.
Monica and Graciela Newsam are sisters, lifelong collaborators, and passionate advocates of the power of movement. Both discovered dance at an early age, studying ballet and contemporary dance in their native Panama. In 1989, they co-founded Creadanza, the first Panamanian contemporary dance company. Their joint study of Indian classical dance and yoga was a turning point in their growth as artists and individuals. They have danced in a variety of styles all over the world, giving performances in France, Italy, India, Ecuador, El Salvador, Cuba, the Bahamas and the United States.
In 1999, inspired by their desire to take dance into the local community, Monica and Graciela co-founded Gramo Danse Company, an aerial and contemporary dance company in Panama. In 2015, the sisters also founded NEWSAM AERIAL DANCE. Currently based in St. Louis, NEWSAM promotes the physical, mental, and emotional development of its students through the teaching and performing of aerial dance.
Monica and Graciela are committed to expanding global awareness with their uniquely innovative and expressive movement style. Through their continuing work as teachers, performers and choreographers, and most notably in their pioneering aerial dance curriculum developed in conjunction with performing arts students at Webster University, the sisters are fulfilling their dream of introducing performers of all ages to the excitement of aerial dance.
James Robey is author of Beginning Jazz Dance and Robey Jazz Dance Technique and Syllabus™, and an assistant professor and chair of the Department of Dance at Webster University. James was founding artistic director for the Bare Bones Dance Project in New York City and James Robey Dance in Connecticut. He danced professionally with the Metropolitan Opera Ballet Company in New York City, Connecticut Ballet, GroundWorks Dance Theater, New York Dance Theater, Off Center Dance Theater, Ohio Dance Theater, Covenant Ballet Theater of Brooklyn, Cleveland Opera, Disney World, Tokyo Disneyland, Norwegian Cruise Lines, and Busch Gardens.
In addition to choreographing for his companies, James has choreographed for Connecticut Ballet, Missouri Ballet Theatre, CelloPointe, Full Force Dance Theatre, Ohio Dance Theatre, MADCO, Zig Zag Ballet, Ridgefield Symphony Orchestra's productions of Histoire du Soldat and Dances from Gloriana, SKIP Entertainment Company in Guam, numerous festivals throughout the United States and Italy, and for several universities.
Heather Sultz '86 is a performer, choreographer, and educator. One of her earliest memories is an improvisational performance in front of the Milles fountains in downtown St. Louis around age three. She has performed with various dance companies around the country and abroad, and presents her own choreography through her company SultzDance. She now specializes in site-specific work, exploring architectural and environmental spaces through movement. She is Director of Keyhole Residencies, an organization connecting communities to their environments through movement exploration, and has been invited to work with various organizations, including One Year Lease Theater Company, The American Institute of Architects Committee on Architecture for Education, Evergreen Museum, the National Museum of Wildlife Art, and the Frank Lloyd Wright site Fallingwater.
In addition, her work as an actor has been seen at film festivals including Sundance and the Berlin Film Festival. In 2015 she was named Webster University's Leigh Gerdine College of Fine Arts Outstanding Alumna. A teacher of movement and the creative process, Heather holds an MFA in Dance from Ohio State University, and has taught at numerous universities and schools. She was founding chair of the Department of Dance at Georgian Court University in New Jersey. She now lives in Los Angeles.
Michael Uthoff became the artistic and executive director of Dance St. Louis in 2006. He began teaching and choreographing for Webster University's Department of Dance in 2010. In 1972, as artistic director, Uthoff established the Hartford Ballet in Hartford, Connecticut, developing over the next 20 years a company of national stature. From 1992-99, Uthoff worked as artistic director of Ballet Arizona, Ballet Estable of the Teatro Colon in Buenos Aires, Argentina, and his own Michael Uthoff Dance Theatre, which premiered in 2003. Uthoff's performance career included companies such as Jose Limon Dance Company, Joffrey Ballet and First Chamber Dance Co.
Uthoff's recent career involved work for such entities as the government of Chile, the Shanghai Ballet of China, Dance/USA, The National Endowment for the Arts, the California Ballet of San Diego, Portland Opera Performing Institute, Andanza Dance Company of Puerto Rico, Juilliard, New World School of the Arts, SUNY Purchase, and UMSL. In 2010, Uthoff received an Honorary Doctorate in Fine Arts from the University of Missouri-St. Louis. He holds an Honorary Laureate Degree from Saint Joseph College in Hartford. In October 2007, he received the Chilean North American Institute's Distincción Ernst Uthoff Award for his distinguished 40-year career and outstanding contributions to dance. In 2013 Uthoff was awarded an Excellence in Arts award from the Arts and Education Council of St. Louis. In May of 2015, Michael received the UMSL Dean's Award for Lifetime Achievement in the Arts and recently he was appointed to the Academia de Bellas Artes in Chile, as Miembro Correspondiente.
Nejla Y. Yatkin is a native of Berlin, Germany, but currently based in Chicago. She choreographs evening length dance works for her own project-based company, NY2Dance and commissioned dances on other companies such as the Washington Ballet, River North Dance Chicago, Cleo Parker Robinson Dance Ensemble, Dallas Black Dance Theater and the Modern American Dance Company. From 2008 to 2012, Ms. Yatkin was an Artist-in-Residence at the University of Notre Dame and from 2001 to 2008 she was a tenured associate professor in the Department of Dance at the University of Maryland, College Park.
In 2005, Ms. Yatkin was named one of "Top 25 To Watch" by Dance Magazine. Her choreography has drawn grants and awards from the D.C. Mayor's Arts Award Committee and D.C. Commission on the Arts and Humanities, the University of Maryland, the John F. Kennedy Center for the Performing Arts, and the National Performance Network. Ms. Yatkin has received several awards from Metro DC, both Illinois and Chicago Individual Project Grants, the 2012 3Arts Award, and accolades in both Los Angeles and San Diego Theaters. In addition, she was awarded a 2009 Special Project grant as well as a Princess Grace Works in Process Award to be in residence at the Baryshnikov Art Center in 2015.
In 2007 she started experimenting with Dance on Film. Her short Dance on Camera film "The Wall" was screened in Dance On Camera Festivals in New York, Los Angeles, Chicago, San Diego, Berlin, Bogota, Istanbul and Kyoto. Ms. Yatkin was also the producer and subject of the Documentary "Where Women Don't Dance", which premiered in 2016. Currently she is working on a new documentary about the "Dancing Around The World" project. For more information please visit www.ny2dance.com