Dance Ensemble Concert features West African, ballet, contemporary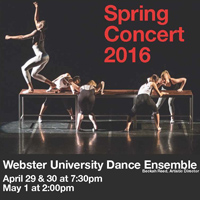 The Department of Dance in Webster University's Leigh Gerdine College of Fine Arts presents the annual Webster University Dance Ensemble (WUDE) Spring Concert 2016, with the works selected once again pushing the diverse possibilities of Webster Dance students' talents.
Under the artistic direction of Beckah Reed, the concert features José Limón's classic work, There Is A Time, which was set on the company during an intensive January residency under the direction of re-constructor Roxane d'Orelans-Juste.
Webster University Dance Ensemble also welcomes faculty emeritus Gary Hubler for the second year in a row, to restage his trio, "Realities Masquerade".
Maggi Dueker, who graduated summa cum laude from Webster, is the featured alumni choreographer, with Michael Uthoff and department James Robey choreographing ballet and contemporary works. An invigorating West African dance will be performed for the first time at Webster, directed by Diadié Bathily (pronounced Jah-jee Bah-chilly) of Afriky Lolo.
The Webster University Dance Ensemble performs on the Browning Mainstage of the Loretto-Hilton Center, 130 Edgar Road on Friday and Saturday, April 29 and 30 at 7:30 p.m. and Sunday, May 1, at 2 p.m. only. Admission is $12 for the general public and $6 for students and seniors.
Contact the Fine Arts Hotline at 314-968-7128 for tickets, or dance@webster.edu and visit webster.edu/dance for more information.
Artist Concepts
Suite from There Is A Time was first performed, in its entirety, April 20, 1956, at the Juilliard School of Music by the Jose Limon Dance Company; Copyright 1996, Jose Limon Dance Foundation. The performance of There Is A Time is presented by arrangement with the Jose Limon Dance Foundation, Inc. and has been produced in accordance with the Limon Style℠ and Limon Technique℠ service standards established by the Jose Limon Dance Foundation, Inc. Limon℠, Limon Style℠ and Limon Technique℠ are trade and service marks of The Jose Limon Dance Foundation, Inc. (All rights reserved.)
"Meditations on Ecclesiastes," the music score for There Is A Time, was commissioned for Jose Limon by the Juilliard Music Foundation and its Festival of American Music, April 1956. This score earned the composer the Pulitzer Prize in 1957. "Meditations on Ecclesiastes"; Copyright 1959 by Carl Fischer, Inc.
The entire work of There Is A Time is, both choreographically and musically, a theme with variations. Limon used as his theme a large circle, which, at the opening of the work, fills the stage and moves majestically as if to evoke the interminable passage of time. This circle is seen repeatedly in many guises, rhythms and dramatic shapes, always making allusion to the text from Chapter 3 of Ecclesiastes and its evocation of human experience. Webster is delighted to be able to at least present excerpts of this entire masterpiece.
Traditional African dance is an essential element of Africa's cultural heritage, providing a vital expression of the region's philosophy, and the living memory of its cultural wealth and its evolution over the centuries. "The students are presenting a vibrant, larger-than-life production of lively dancing, powerful drumming, colorful costumes and rich lighting design in my work, Africa - Land of Rhythm & Movement," said Bathily, executive and artistic director.
Realities Masquerade, choreographed by faculty emeritus Gary Hubler, premiered in 1992 at Webster University. "We are very happy to have Gary gift us with this restaging of his beautifully crafted trio. It was timeless in 1992 and continues to hold our hearts in 2016," Reed said.
"Undercurrent explores unseen literal and figurative forces to drive the movement. This athletic, driving piece is inspired by an original rousing, percussive composition created by Victoria Meyer, an associate professor in Audio Production at Webster," said Dueker.
"For this piece, I worked in collaboration with the dancers to develop stories around issues of systemic privilege. Stubborn Ounces is a contemporary theatrical dance work that weaves together movement, spoken word, and personal stories to explore timely issues," said James Robey.
"Symphoniette for 14, maybe 15, sometimes 16 is a light-hearted, spirited work that simply wants to create the joy of moving in the dancers and hopefully a smile to the audience," said Michael Uthoff.
Artist Biographies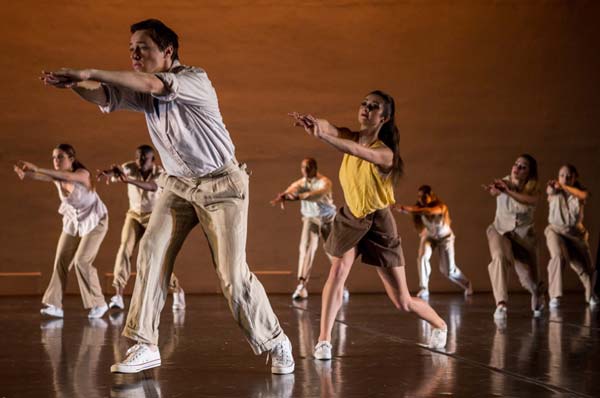 Diadié Bathily, (choreographer), is the artistic director of Afriky Lolo, a dance company based in St. Louis that he founded in 2003 and incorporated as a nonprofit in 2007. Diadié (pronounced Jah-Jee) is an accomplished dancer, choreographer, instructor and costume designer. He has danced professionally for over 30 years on stages in Africa, Europe and North America. He is an adjunct faculty member at Webster University and Washington University in Saint Louis.
Diadié's specialty is West African dance. He has conducted master classes and workshops throughout Europe and North America and has performed with, or choreographed for, such notable companies as the Cleo Parker Robinson Dance Ensemble (Denver, CO), the Katherine Dunham Centers for Arts & Humanities (East St. Louis, IL), Ecole de Danse et d'Echange Culturel with Ms. Marie Rose Guiraud (Ivory Coast) and Broadway Dance Center (New York, NY). Diadié is the recipient of the n'gowa Prize for dance in Ivory Coast and has performed at the United Nations, the Village of Arts and Humanities in Philadelphia and many festivals and events around the U.S.
Maggi Dueker is a summa cum laude graduate of Webster. As a dancer, Maggi performed regionally and internationally with Gus Giordano Jazz Dance Chicago. In addition, she performed as a freelance artist with Melissa Thodos and Dancers and Chicago Arts Project, among others. She also danced for Royal Caribbean International. Maggi has been an adjunct faculty member in the Department of Dance since 2005, and is thrilled to be choreographing again for WUDE this year. Her previous works have been selected for the American College Dance Festival Gala Concerts, the Dancing in the Streets Festival and for National Dance Week.
Gary Hubler joined the faculty of Webster University in 1973. From 1978 through 2006 he was the director of the Dance Program as well as artistic director of Webster Dance Theatre and Webster University Dance Ensemble. A native of Saint Louis, his early training with Michael Simms and Stanley Herbert led to a five-year association with the Municipal Opera of St. Louis (Muny). As part of that association he was able to serve as dancer choreographic assistant, and assistant stage manager. His additional training well known teachers, among them Leon Daniellan, Edna McRae, Matt Mattox, and Luigi. After years of performing in New York, Chicago, Los Angeles, and Las Vegas. Hubler returned to Saint Louis to pursue a career as a teacher and choreographer. Since retiring in 2006 he as continued to work as a master teacher and choreographer within the Saint Louis dance community. He is very pleased to continue to share his choreography with the students of Webster. A return to home base is always a joy.
José Limón (Choreographer, 1908 - 1972) was born in Culiacan, Mexico on January 12, 1908. In 1928, after a year at UCLA as an art major, Limón moved to New York to continue his studies. Limón enrolled in the dance school of Doris Humphrey and Charles Weidman, and between 1930 and 1940 performed in most of their works. After serving in the army, Limón collected a small group of dancers and formed his own company in 1946, with Doris Humphrey as his artistic director. During the ensuing years, many of his works were recognized as masterpieces and his company grew in size and stature, becoming the first group to tour abroad under the auspices of the U.S. State Department's Cultural Exchange Program.
He joined the faculty of the newly formed Dance Department at the Juilliard School in 1951. In his later years, Limón performed at the White House, and was the recipient of numerous commissions, awards and honorary doctorates. José Limón choreographed a total of seventy-four works, the most famous of which is The Moor's Pavane. Some of his other dances include Missa Brevis, The Traitor, The Exiles, There is a Time, Emperor Jones, Dances for Isadora, Psalm, The Unsung and A Choreographic Offering. Today, the José Limón Dance Foundation continues his work through two entities: the Limón Dance Company, an international touring repertory company, and the Limón Institute, an educational and archival resource organization.
Dance-artist, educator, and movement theorist James Robey is author of Beginning Jazz Dance and Robey Jazz Dance Technique and Syllabus™, co-creator of Integral Technique™, and received the 2015 Wilma and Roswell Messing Jr. Faculty Award from Webster University where he currently serves as an Assistant Professor and Chair of the Department of Dance. As a performer, James danced with the Metropolitan Opera Ballet Company, Connecticut Ballet, GroundWorks Dance Theater, New York Dance Theater, Off Center Dance Theater, Ohio Dance Theater, Covenant Ballet Theater of Brooklyn, and Cleveland Opera.
Michael Uthoff became the artistic and executive director of Dance St. Louis in 2006. He began teaching and choreographing for Webster University's Department of Dance in 2010. In 1972, Uthoff established the Hartford Ballet in Hartford, Connecticut, developing over the next 20 years, as Artistic Director, a company of national stature. From 1992-99, Uthoff worked as Artistic Director of Ballet Arizona, Ballet Estable of the Teatro Colon in Buenos Aires, Argentina, and his own Michael Uthoff Dance Theatre, which premiered in 2003. Uthoff's performance career included companies such as Jose Limon Dance Company, Joffrey Ballet and First Chamber Dance Co. Uthoff's recent career involved work for such entities as the government of Chile, the Shanghai Ballet of China, Dance/USA, The National Endowment for the Arts, the California Ballet of San Diego, Portland Opera Performing Institute, Andanza Dance Company of Puerto Rico, Juilliard, New World School of the Arts, SUNY Purchase, and UMSL.
In 2010, Uthoff received an Honorary Doctorate in Fine Arts from the University of Missouri-St. Louis. He holds an Honorary Laureate Degree from Saint Joseph College in Hartford. In October 2007, he received the Chilean North American Institute's Distincción Ernst Uthoff Award for his distinguished 40-year career and outstanding contributions to dance. In 2013 Uthoff was awarded an Excellence in Arts award from the Arts and Education Council of St. Louis. In May of 2015, Michael received the UMSL Dean's Award for Lifetime Achievement in the Arts!