Webster University Dance Faculty, Alumni, Students Collaborate in 'New Works' Nov. 7-9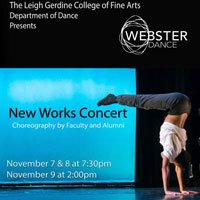 Webster University's Department of Dance in the Leigh Gerdine College of Fine Arts (LGCFA) presents the New Works Concert 2019 on Nov. 7-8 at 7:30 p.m., and Nov. 9, at 2 p.m. on Stage III in Webster Hall.
New Works is an opportunity for choreographers to try new methodologies, to explore new ideas. It is a laboratory for taking risks, growing and seeking feedback. The choreographers for the New Works Concert consist of alumni Marcus Johnson, Paige Walden-Johnson and Rain Stippec. Webster University faculty members Maggi Dueker, Dawn Karlovsky, Monica Newsam, Beckah Reed and Zhao Xi are also contributing pieces.
The final piece of the concert (the aerial dance) will be performed in the Loretto Hilton Center, in the Jean and Wells Hobler Center for Dance, in the Large Studio. The audience will be guided to the studio for this final work.
Admission is free, but donations are accepted. Reservations may be made through the LGCFA Hot Line (314) 968-7128.
For further information call The Fine Arts Hotline (314) 968-7128 or email dance@webster.edu.
Visit webster.edu/dance to learn more about the Leigh Gerdine College of Fine Arts.
Artistic Statements

Maggi Dueker shares thoughts regarding her choreography for NEW WORKS, "For my piece, I wanted to examine instability, disorientation, and disconnection which I feel are three pervasive and related themes in our world. I wanted to push the dancers to work beyond the controlled and familiar, both within themselves and between one another. In doing so, I certainly sought to test their limits while ultimately hoping to find stability, reorientation, and connection in unexpected ways."
Marcus Johnson is the movement innovator for the choreographic collaboration he shares with his wife, Paige Walden-Johnson. Paige is the conceptualizer for the partnership. The duet they have created works with space, the space between, and the resulting relationship. The two dancers complement and contrast, ultimately finding cohesiveness through the partnering, the support, the weight and acceptance of being connected. It is an abstract work, yet invites meaning through a universal eye.
"In observation of the hurried and busy lifestyle of, what seems to be, a part of everyone's lives, In the Quiet reflects on those moments when we are alone. What do we experience when in the quiet? What thoughts, feelings, and visions are brought to consciousness? What changes in our dynamic energy when in the company of others? In the Quiet is a conceptually motivated piece reflecting on how we experience space and time during these contrasting moments in our lives," states Dawn Karlovsky.
Choreographer and aerial dancer Monica Newsam "…invites the audience into an examination of their own life path and the choices they make as they encounter the challenges and the people that give our lives meaning. This ambitious piece explores new movements using an aerial dance apparatus and movement techniques on a wall. Come explore the limits of dance and movement and consider in new light your own path, the challenges you face, the people you connect with along the way, as you let go of the past, live in the moment, and face the future." This piece is the culminating piece of the concert and will be performed in the Loretto Hilton Center, in the Jean and Wells Hobler Center for Dance, in the Large Studio. The audience will be guided from Stage III to the studio for this final work. Video Artist Zlatko Ćosić will be collaborating with Monica Newsam on this piece, designing and providing projections that create an atmosphere, where the work may reside.
Beckah Reed states, "I consider my work 'dance theatre'. I see art in life and want very much to bring life to my art… to explore humans, emotions, images, atmospheres, events, relationships… I use, among other options, voice, props, stillness, an out of time sense of time, and minimal movement, leaning towards a sense of ritual. An impasse is a reflection for me of the current world's challenges. We do not seem able to understand, or support, those with different views than our own."
Lorraine "Rain" Stippec says her new tap piece reflects, "… a light-hearted afternoon for a small group of unhoused individuals in a big city who are utilizing street sounds to create their own "beat" on a beat - playing on the same idea of a small area/time frame that a cop works in. While each person has their own beat, their own rhythm, and their own medium of musical expression, each of them fit together in counter-rhythms that complement each other. The piece will ultimately show that while they work well alone, the music they make together is the brightest part of their day."
ZHAO XI speaks of her work as exploring, "What is safe/unsafe… What are the "vibrations" and what is the "resonance" within and without? How does this particular performer meet challenges deeply and honestly? How to risk, yet be present in the moment, fully cognizant of the consequences? What is the relationship between the individual and the group?" Zhao Xi's solo allows an intimate and intense process between the choreographer and dancer, and ultimately, with the audience."
Zhao continues, "Usually when I work, I start with a concept and some images of what may occur on stage, in my head. The fascinating part of being a choreographer is how I solve this puzzle and at the same time dig into the physicality and making the word "organic". I believe that there are unseen connections in the concept, the physicality, the visual images, etc., which look like they are separate. I search for these connections in the process of my choreography and desire to evoke the audience's vibrations/resonances through the work, rather than simply speak from my own voice.
Biographies
Zlatko Ćosić is a video artist born in Banja Luka, Yugoslavia, whose work spans a number of disciplines, including short films, video installations, theater projections, and live audio-visual performances. His work has been included in video art exhibitions, film festivals, galleries, and museums in more than fifty countries and exhibited in St. Louis at the Contemporary Art Museum, Kemper Art Museum, Gallery 210, Bruno David Gallery, Sheldon Art Galleries and Regional Arts Commission. Ćosić was a prize winner at the St. Louis International Film Festival, Macon Film Festival, and Sunscreen Film Festival. He has received numerous grants and fellowships including the Regional Arts Commission Artist Fellowship and a Kranzberg Grant for a video installation at Laumeier Sculpture Park. Ćosić holds degrees from Washington University in St. Louis and Webster University and currently teaches at both institutions.
Maggi Dueker is a Visiting Professor and the Chair of the Department of Dance at Webster University. She founded and is the Director of Webster's Summer Dance Intensives. Her choreography has been performed by the Webster University Dance Ensemble, Convergence, and for the American College Dance Festival, Dancing in the Streets and National Dance Day among others. Maggi is an MFA Candidate in Dance at the University of Wisconsin-Milwaukee and received her BFA in Dance from Webster (Summa Cum Laude). She performed professionally with Giordano Dance Chicago II, Royal Caribbean International, the MUNY and as a freelance performer with Melissa Thodos and Dancers, and Chicago Arts Project. She has previously taught at Northwestern University, Giordano Dance Center, and is currently on faculty with the Big Muddy Dance Company. For her work at Webster, Maggi has been nominated for the Kemper Excellence in Teaching Award.
Marcus Johnson has performed pieces by Antony Tudor, Antonio Douthit-Boyd, Kirven Douthit-Boyd, Alicia Graf-Mack, Michael Uthoff, Maurya Ker, Nejla Yatkins, Hanna Brictson, Gina Patterson and Lara Teeter. In the summer of 2011, he performed the Antony Tudor masterpiece Dark Elegies for the Corps De Ballet in Kansas City, Missouri. Marcus trained with the Perry Mansfield School, Kansas City Ballet, "Real World" with Jon Lehrer and Lehrerdance, and Hubbard Street Dance Chicago. Marcus received his Bachelor of Fine Arts degree in Dance with honors from Webster University. Currently living in Saint Louis, Marcus is an artist with "The Helix Effect", guest artist with the Modern American Dance Company (MADCO), freelance competitive and concert dance choreographer, and judge with the Revolution Talent Competition. Marcus is proud to be a DMA certified teacher teaching Ballet, Contemporary, Lyrical, and Hip Hop around the St.Louis area. Mr. Marcus is also currently pursuing his MFA at Washington University when he is not assisting with the Renee's Dance Floor Competition Team!
Paige Walden-Johnson graduated with a BFA in Modern Dance and a minor in Psychology from Webster University. Paige believes in the power of the arts as a communicator, educator and healer. She has performed with Collective Motion and Karlovsky and Company Dance as a company member, and in collaborative freelance work in the Saint Lou Fringe Festival. Her choreography has been featured by Ashleyliane Dance Company, St. Lou Fringe Festival, Leverage Dance Theater, American Dance Troupe, as well as a dance-for-film, To Cause a Dream, presented in Editions Futura gallery in Paris. After experiencing the violence public health crisis in her city through her friend's tragic shooting, Paige decided to refocus her artistic career for the community. While working with the Violence Prevention Commission, hospitals, law enforcement, and community agencies, Paige shows Saint Louis how impactful an artist can be. You can find Paige dancing throughout Saint Louis creating collaborations between the arts community and the city's anti-violence efforts.
Dawn Karlovsky teaches Modern Dance and the Alexander Technique at Webster University and at Washington University/University College in St. Louis and is a nationally certified teacher of the Alexander Technique (AmSAT) since 2004. Dawn is the Founder and Artistic Director of Karlovsky & Company Dance where her thought-provoking, athletic, and emotionally candid dances have been commissioned and presented by universities and modern dance/theatre companies worldwide and in major cities of the United States. International credits include choreography commissioned by Le Théatre du Rouret and Le Communauté de Culture de Couloisy in France, Cie Haute Tension (France), Tsinghua University (Beijing, China), and most recently a performance collaboration with New World Dance Theatre in Cape Town (South Africa).
A native of Chicago, Dawn Karlovsky came to St. Louis in 1997 after dancing and touring with companies in San Francisco, Louisville, and Chicago including California Contemporary Dancers, Afterimages Repertory Dance, and in St. Louis with GASH/VOIGT Dance Theatre. She holds a Master of Fine Arts degree from the University of Utah and a Bachelor of Arts from Northern Illinois University. Dawn Karlovsky is a recipient of the Artist Fellowship Award in Dance by The Regional Arts Commission of St. Louis. karlovskydance.org.
Monica Newsam, president of NEWSAM AERIAL DANCE, was born in Panama. Her discovery of a passion for movement and dance at age five marked the beginning of a life-long journey to define her singular artistic vision. Monica's internationally acclaimed body of work in dance and choreography stretches across four continents. She received her Bachelor of Fine Arts at the National School of Dance and Folklore in Havana. She continued her exploration of international movement styles in India where she received a Post Graduate Diploma in Indian Classical Dance at Shriram Bharatiya Kala Kendra and Yoga at the Sivananda Yoga Center of Kerala.
In 1999, inspired by her desire to take dance into the local community, Monica and her sister Graciela co-founded Gramo Dance Company, the first aerial dance company in Panama. In her continuing relationship with Gramo Danse as a performer and contributing choreographer, Monica is fulfilling her dream of educating children about the power of dance. In 2003, Monica received a master's degree in education from Lindenwood University in St. Charles, Missouri. She began exploring aerial circus techniques which lent new perspectives to her artistic work. Currently, Monica teaches aerial dance at Webster University in St. Louis, where she also choreographs for its Dance Ensembles. Since 2008, Monica works with the St. Louis non-profit consortium ANNONYArts where she collaborates with artist Tom Brady in performance installations.
In 2017, Monica and Graciela Newsam published a pioneering Aerial Dance Curriculum for Dancers which they currently implement while teaching workshops and master classes. Throughout her extensive creative output, Monica seeks to expand global awareness of aerial dance as an exciting, expressive movement discipline.
Beckah Reed is a professor of Dance at Webster University's Department of Dance and Artistic Director of Webster Dance. Beckah was a co-artistic director for GASH/VOIGT Dance Theatre, an all women's contemporary dance theatre ensemble, based in St. Louis, creating cultural exchanges with countries and artists throughout the world. She founded and was Artistic Director of ANNONYArts, as well as worked on several productions with METRO Theatre Company. Beckah's choreography, best described as theatre dance, draws on the use of props, voice, and the motivation of human interactions to create her pieces. She particularly enjoys her work in somatics, including qigong and taiji, focusing on healing energies and moving meditations.
Lorraine "Rain" Stippec graduated from Webster University with a B.F.A. in Dance, Modern emphasis, Department Honors and Magna Cum Laude. Rain also performed and choreographed for the Central Region American College Dance Festival and Dancing in the Streets. Theatrically, Rain has thrived in St. Louis performing professionally at The Muny as well as for The Fabulous Fox Theatre Tellerettes as a principal chorus member. She has also choreographed numerous productions for The Fox Kids, Ciao St. Louis, Bravo Theatre Group, Maryland Heights Theatre, and Insight Theatre, Co. Arts For Life has recognized Rain for Best Choreography, Featured Dancer, and awarded her with their inaugural Art Education Scholarship. After graduating, she toured China performing and choreographing concerts with hip hop group "The Famous Crew" in part with Sterling Plus Entertainment Talent Agency. She can also be seen in CMC Film's "Le Ballet Quotidien" as Claudius. Rain has taught all over the metropolitan area and its currently on staff at MAC Dance and DPU Dance.
ZHAO XI received her MFA in Performance and Choreography from Tisch School of the Arts at NYU and her MA in Dance Choreography at the School of Dance, Minzu University of China. She is the founder and artistic director of Y Art Studio and of The NEW-Beijing New Dance Festival, the first international dance festival featuring contemporary dance in China. The festival has successfully invited over 100 international artists from more than 20 countries to perform and to teach in Beijing, introducing many contemporary dance artists and companies from central and eastern Europe to China for the first time. It has hosted over 10,000 participants and spectators from all over China. Zhao was working as a tenured lecturer at the School of Dance, Minzu University of China for 11 years. She has worked as a Visiting Guest Artist at Webster University and has been working as an independent choreographer worldwide. She is a member of China Dancers Association, the leading association of dance professionals in China. Currently, Zhao is the Program Coordinator for the Confucius Institute at Webster University in St. Louis, while supporting the Department of Dance through her Master Classes and Choreography.
In view of Ms. Zhao's contributions to the contemporary dance scene in China, she was commissioned by China's Ministry of Culture as the dance expert assisting the visit of the CEEC (Central and Eastern European Countries) Dance Festival and Choreographers delegation in 2014. In 2016 she was invited to be a keynote speaker at the Chinese Government's "16+1" initiative, the China-CEEC Arts Cooperation Forum. She has been invited to many international festivals giving keynotes and panel discussions about Chinese contemporary dance development. Ms. Zhao's most recent award (the first Young Artist to be recognized for this honor) was given in April of 2019, the "Award MENADA for Extraordinary Achievement in the Field of Contemporary Dance" from the Dance Fest Skopje in Macedonia.