Dance Residency Students Work in School District with Donor Support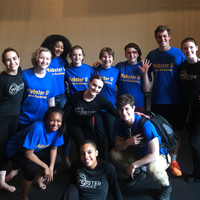 Webster University's Dance Residency began in 2009 as an outgrowth of the Lecture Demonstration Touring Group, which is comprised of one performance and workshop. It evolved into a mini-residency in a high school, creating opportunities for greater in-depth mentoring of students through the WEBSTERDance Fellows.
Some options in this residency, in addition to the dance classes, are journaling, photos, and videos which add to the classroom hands-on teaching experience.
Mary Ellen Pearson and Ellen Eliceiri, both private donors, who have supported the program in the past, have been generous once again this year. The faculty and students thank these amazing, dedicated and visionary women for making this program possible.
This year Webster Dance chose to work in its own backyard -- Webster Groves High School, in the school district that Webster University's main campus calls home. In a residency that ran from March 30 to April 19, with about nine contact days, they collaborated with Todd Schaeffer, the head of the Theatre Program at Webster Groves High.
Schaeffer has worked diligently to create the facilities, curriculum and the faculty to make a quality Drama program and brought guests to the final class of the residency, in hopes of pushing dance through their curriculum, so that it may be a PE credit for the students at Webster Groves High.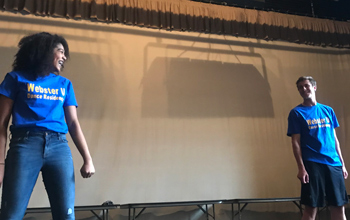 "We are excited to be a part of this initiative and are grateful for the opportunity to bring dance into education!" said Beckah Reed, director of the Dance Residency this year.
Fur WEBSTERDance Fellows for 2018 have been teaching at the high school: Gabriella Farrell the lead teacher, and Sarah Jenkins, Kendall Heuman and Hannah Price as outstanding assistants. During the residency these Webster dancers taught the high school students ballet, modern and jazz, providing a true overview and introduction to these forms.
"They've received an amazing experience, working with non-dancers, who are also a mixed academic and social group," said Reed, who is also director of this Arts and Education Outreach Program this year. "One of our Dance Fellows is specializing in her Webster degree with Special Education, Theatre and Dance, so is helping a great deal with the Special Needs aspect of our residency."
If you have any questions regarding this program, please contact the Department of Dance: (314) 246-7747, dance@webster.edu or visit www.webster.edu/dance.
Webster University Dance Ensemble
Catch Webster dancers live April 27-29 at the Webster University Dance Ensemble 2018 (WUDE), under the artistic direction of Reed. This year's concert shares contemporary choreography from international artist Cleo Parker Robinson, alumna Eve Mason and faculty emeritus Gary Hubler. Webster's fine faculty, including Alicia Graf Mack, Michael Uthoff and Beth Steinbrenner, round out the diverse program with flamenco, contemporary and ballet.
When:

Friday and Saturday, April 27 and 28, at 7:30 p.m.; and Sunday, April 29, 2 p.m.

Where:

Virginia Browning Mainstage of the Loretto-Hilton Center, 130 Edgar Road

Admission: Admission is $12 for the general public and $6 for students and seniors
Tickets: Contact the Fine Arts Hotline at 314-968-7128 for tickets, or dance@webster.edu for more information
More information: See the Dance Ensemble announcement.
Come experience the beauty and uplifting attributes of dance, its rhythms, power of community and also explore some of the challenges of humanity in 2018.