Dance Students' Choreography Selected for Gala at ACDA Conference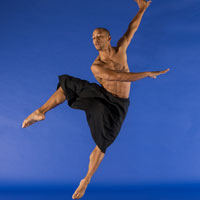 On Tuesday, March 28, 23 Webster University dance students, both majors and minors, boarded a bus to Wichita, Kansas for the American College Dance Association's (ACDA) Central Region conference for four days of workshops, concerts, presenting choreography, and performing.
Senior student choreographers Jacob Henss and Donnie (DJ) Duncan presented their choreography for adjudication and Camaron D. Ballard presented his choreography in an informal concert. Of the 40 dances presented for adjudication, 10 were chosen for the Gala Concert.
The adjudicated works come from national guest artists, faculty, and students with the adjudicators not knowing whether they are observing a faculty or student's work. Both Henss' duet, which he performed with Josiah Gundersen, and Duncan's solo work were chosen for the Gala Concert.
"Attending this conference is always a highlight of the year," says assistant professor and department chair, James Robey. "Jacob and DJ both having their work chosen for the Gala Concert is an honor and testament to the talent, creativity, and innovation of Webster students and faculty."
Support for students to attend the conference came from the Student Government Association, the Dance Club, and the Leigh Gerdine College of Fine Arts.
Learn more about the Department of Dance at Webster.