Dance Visiting Guest Artist Honored for International Efforts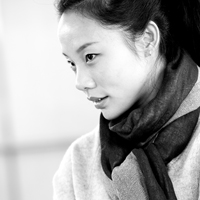 On April 4, 2019, Zhao Xi (Cecilia), traveled to New Macedonia to receive the "Award MENADA for Extraordinary Achievement in the Field of Contemporary Dance" from the Dance Fest Skopje.
Zhao is a visiting Guest Artist from Beijing, China, in the Webster University Department of Dance, part of the Leigh Gerdine College of Fine Arts, for the 2019 Spring Semester.
Enjoy some of her choreography as performed by Webster Dance students at the upcoming Webster University Dance Ensemble April 26-28.
Zhao is the first young artist to receive the Award MENADA, with artists such as Hans van Manen and Vladimir Vasiliev, having preceded her with this honor. It is a recognition of several of her accomplishments.
In 2014, she founded the NEW, Beijing New Dance Festival collaborating with Chaoyang Culture Center and Beijing 9 Contemporary Dance Theatre. As the artistic director, she has brought world-renowned artists and companies to China; the festival has successfully invited over 100 international artists from more than 20 countries to perform and to teach in Beijing and have hosted over 10,000 participants and audience from all over China to join the festival.
The festival she founded has introduced many contemporary dance artists and companies from central eastern European countries to China for the first time. The NEW is gradually becoming the most influential contemporary dance festival in China.
Zhao's award also received coverage in Macedonia news media.