David Clewell Honored by Webster Groves Arts Commission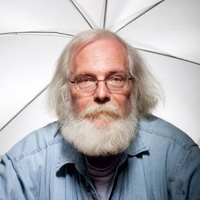 When David Clewell, Webster University professor of English and former Poet Laureate of Missouri, received the call that he was receiving the Lifetime Achievement in the Arts award from the Webster Groves Arts Commission, he was pleased but a bit concerned.
"My reaction was with these sorts of awards is that it means my life is almost over and my achievements are done. They assured me that was not the case," said Clewell.
The Webster Groves Lifetime Achievement in the Arts Award was established by the Webster Groves Arts Commission in 2007 and recognizes outstanding citizens of Webster Groves for their contribution and excellence in the arts. The 2017 award will be presented to Clewell on Thursday, Oct. 12, at Webster Groves City Hall.
Clewell began working at Webster University in 1985 after completing his MFA at Washington University in St. Louis.
"I had survived for years doing artist-in-residency programs in Wisconsin and Missouri where writers would go into classrooms for limited times. I'd worked as a hat salesman at the Sacred Feather on State Street in Madison, Wisconsin, and I'd worked for the circus," said Clewell. "I'd done other things. I wasn't thinking 'career' but I thought teaching would be nice in a general sense. An opening came up here for a full-time professor and it worked out and I can't believe I'm still here. It's still enjoyable to me. The support that I get from my colleagues is incredible and the autonomy that I'm allowed. It's having the best of both worlds, really."
In 2010, Clewell was named Poet Laureate of Missouri, a position he held for two years. This role meant that he was able to spend time traveling around the state of Missouri for poetry readings and lectures. While his travels as Poet Laureate gave him less time to write poetry, he enjoyed bringing poetry to different groups of people and helping them appreciate it.
"I especially enjoy talking to people who do not consider themselves poetry-inclined but out of curiosity or for whatever reason have come out for some of these events," he said. "My job isn't to convert people to the grand notion of poetry but rather show that it really does have to do with real human life and it is something that can be downright enjoyable in its form and format too."
The fear surrounding this area of literature is something Clewell is familiar with since it took him a while in his education to discover that he did actually enjoy poetry.
"In K-12 poetry would send me screaming top speed in the opposite direction, precisely because it seemed to have so little to do with my life," he said. "I think it wasn't poetry's fault but the way I was exposed and taught about poetry. Even amongst good teachers whether grade school, middle school, high school, poetry is often something they feel most tentative about themselves."
In teaching poetry, he tries to get people to appreciate how poems are different from other forms of writing and how they have to be approached differently by the reader.
"The biggest thing that poetry asks you to do – it always has – is that it asks you as a reader to slow down. In our time, that's a tough request to make because we don't have time, we have to check devices, we have to hurry, we have to get to this game – so it's slowing down literally just to take in the words the way the writer arranges them," Clewell said. "To learn how to read a poem or many different kinds of poems is half of the battle and that doesn't mean with literary analysis or academic eggheadedness – it just means a different way of reading where you're suddenly reading things line by line instead of sentence by sentence."
Murray Farish was once a student of Clewell's and now works in the same department as an associate professor. Farish said this ability to slow down and really absorb life is apparent in how Clewell interacts with his students.
"One of David's greatest gifts as a teacher is his ability to put the right book in the right student's hands at the right time," said Farish. "This of course requires him to listen to his students, to get a sense of what they like and what they need. And this kind of thing can set off a chain reaction where kids get really tuned in to what books can offer. We're in the English Department, so most of our students say they like to read. But when they take David's courses, they start to see what it really means to be a reader. His other great gift is his infectious, intelligent enthusiasm. He's never stopped loving books and writers and words and teaching about them. With the student who matches even a little of that enthusiasm, together they can do some awfully good work."
Farish will be saying a few words to honor Clewell at the Lifetime Achievement in the Awards event along with Stefene Russell from St. Louis Magazine and Ben Clewell, Webster University student and David's son.
David Clewell Biography
David Clewell has published eight collections of poems – most recently, Almost Nothing To Be Scared Of (Four Lakes Poetry Prize) – and two book-length poems (The Conspiracy Quartet and Jack Ruby's America). His work has appeared regularly in a wide variety of magazines, including Harper's, Poetry, The Kenyon Review, The Georgia Review, Ontario Review, New Letters, andYankee. His poetry is represented in five-dozen anthologies. He's been the recipient of the Pollak Poetry Prize (for Now We're Getting Somewhere) and the Lavan Poetry Prize from the Academy of American Poets. His Blessings in Disguise was a winner in the National Poetry Series. He directs the Creative Writing program and coordinates the attendant Visiting Writer Series, which he started in 1986. He was the Poet Laureate of Missouri from 2010-2012.
English and Creative Writing at Webster
Learn more about Webster University English and writing academic programs here.