Webster Leaders Meet with U.S. Legislators, International Representatives in D.C.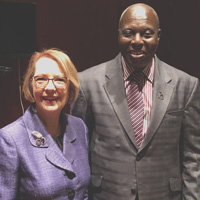 Webster University President Elizabeth (Beth) J. Stroble, Provost, Senior Vice President and Chief Operating Officer Julian Schuster, Chief Communications Officer Rick Rockwell, and Associate Vice President for Government Relations and Sponsored Programs Carolyn Corley, met last week with members of congress, officials at the Department of State and embassy personnel to advance Webster priorities and affirm University relationships with key policy-makers.
President Stroble spent Tuesday morning with Ghanaian Ambassador to the U.S., Dr. Barfour Adjei-Barwuah, updating him on recent developments at Webster's campus in Accra and learning more about the Ambassador's aims to help build a new generation of entrepreneurs. The Ambassador will plan to visit our campus and discuss opportunities for partnership when he travels to Accra later in the year.
Webster's flourishing partnership with Universidad San Francisco de Quito and new opportunities for our students to study the country's extraordinary biodiversity were the main topic of Stroble and Schuster's visit with Ecuadorean Embassy First Secretary, Marco Benitez, later that day.
Rockwell and Corley spent time with educational attachés at the embassies of Bahrain and Qatar discussing the experience of international students across the Webster network and learning about the needs of students from the Gulf Region. They will be working with campus directors and international programs staff to support their efforts to attract and retain those students.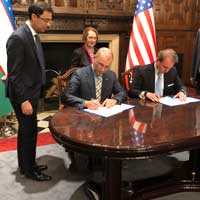 On Tuesday night, the Embassy of Uzbekistan hosted Webster at a signing ceremony celebrating the success of the University's current TESL program in Tashkent and announcing plans to partner in broadening the range of programs for students in this key Central Asian country.
Senior officials from the Department of Education's Office of International Affairs, and from the State Department's Bureau of Educational and Cultural Affairs and Bureau of South and Central Asian Affairs were among the speakers at the event.
At meetings with the State Department's Deputy Assistant Secretary of State for South and Central Asian Affairs, Emilia Puma, and Deputy Assistant Secretary for the Bureau of Educational and Cultural Affairs, Caroline Casagrande on Wednesday, the group learned more about the key role of Uzbekistan in the region and the importance of promoting English language learning and providing American educational alternatives. Provost Schuster will be following up with the U.S. embassy in Tashkent in subsequent visits.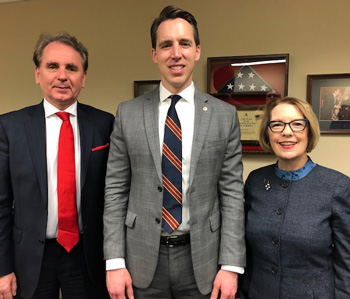 The trip ended up with a series of meetings on Capitol Hill. The group had a cordial introduction to Missouri's newest senator, Josh Hawley, at his offices in the Dirksen Senate Office Building.
At meetings with Sen. Blunt and Congressional Reps. Lacy Clay and Ann Wagner, the president and provost discussed the possibility for Reauthorization of the Higher Education Act this year and shared their concerns about the impact of proposed new rules related to Title IX of the Higher Education Act and college accreditation.
Webster will maintain frequent communication with our representatives as these issues develop in the coming months.