College of Arts and Sciences Dean Tony Wallner to Retire End of December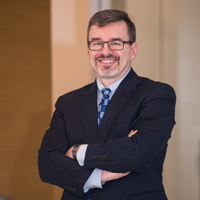 College of Arts and Sciences Dean Anton (Tony) S. Wallner announced that he will retire at the end of the year. Wallner has served as dean of the College since 2017.
Among his numerous accomplishments during his time as dean were increasing the number of grants received by the University, restructuring the College, helping create the Master's in Biomedical Sciences programs, founding the Human Performance Lab, guiding the CACREP accreditation process in South Carolina, and increasing the partnerships with the Community Colleges, the Danforth Center, the Missouri Botanical Garden and the Academy of Science St. Louis.
"I have been honored to be part of the mission of Webster working with students on their particular academic journeys. This has been part of the overreaching arc of my professional career," said Wallner "The COVID pandemic has brought the importance of family to the forefront for me, and as I reflected on my personal and professional situation, it became obvious that retirement was the right decision for me at this time. This will allow me to return home and spend time where it matters; with my husband and family."
Wallner arrived at Webster just at the finishing touches were being made on Browning Hall, the Interdisciplinary Science Building. He immediately set a goal of growing Webster's reputation in the St. Louis region for offering science-based programs with an interdisciplinary emphasis. During his time, the biology program grew in enrollment while the nursing programs gained newfound reputations throughout the Midwest. In addition, the counseling programs earned CACREP accreditation at several locations, a long-term goal of the University.
Working with other schools and colleges at Webster, Wallner helped Webster earn several high-profile grants, including a $124,000 grant from the National Science Foundation to train more K-12 science teachers. The NSF grant was particularly noteworthy as it was a collaboration with the School of Education and the St. Louis Community College – Forest Park campus.
When the pandemic impacted the United States, Wallner oversaw an effort to make sure professors from Webster University's nursing program were the voice of reason and calm in the early days of the crisis, earning the nursing programs dozens of mentions on regional television. Wallner even took it to a new level and received national recognition this summer when he made a video demonstrating how to create hand sanitizer using common household items. That video eventually aired on nearly 60 different television stations across the United States, making Webster University and Wallner a household name.
Among his most cherished personal achievements at Webster was elevating the University's recognition of World AIDS Day. Under his guidance, Webster partnered with local health agencies and offered the community free HIV testing on campus every year. He also hosted several lectures and screenings of films around the topic of AIDS. As a result, Webster received local media attention for its World AIDS Day Efforts in the past two years. "I was very proud of the work we did there," said Wallner.
"Tony really energized the College of Arts and Sciences. Through his leadership, he elevated Webster's reputation both regionally and nationally as one of the top universities to attend for the liberal arts," said President Julian Z. Schuster. "I understand his reasons for taking retirement at this time and I whole-heartedly congratulate him for all he has done for Webster."
Wallner started his academic career in Missouri as an associate professor of chemistry at Missouri Western State College just outside of Kansas City. Overall, he has spent 28 years in higher education at institutions in Missouri and Florida.
Besides teaching or serving in an administrative role, Wallner has had more than two dozen research articles published in peer-review journals and also co-edited the book "NMR Spectroscopy in the Undergraduate Curriculum: Upper-Level Courses and Across the Curriculum Volume III" with Oxford University Press.
Wallner's last day will be Dec. 31. He said he will remain active professionally in retirement with publications, grants, and adjunct teaching, but from his home base in Florida.
An interim dean will be appointed later this academic year.