Webster Forensics and Debate Wins Big at State Tournament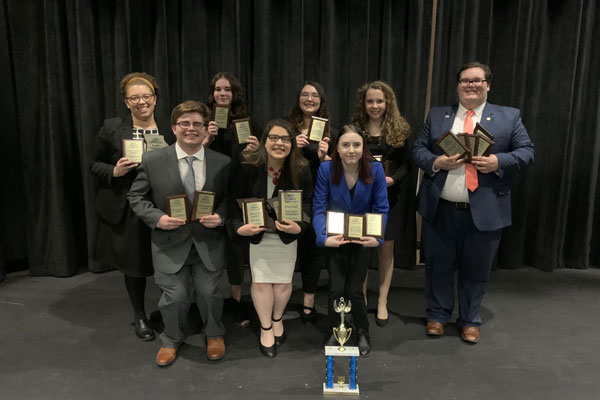 The Webster Forensics and Debate Team returned from the Missouri State Tournament this past Sunday, Feb. 16, bringing home four State Championships, third place overall Individual Events Sweepstakes, and 26 awards.
Freshman Sarah Hammeke also qualified for the elite Interstate Oratory Tournament, the nation's oldest forensic tournament. Only two people per state are selected to attend the competition each year. Webster has previously qualified individuals and won third place in that prestigious tournament.
Webster has previously qualified individuals and won third place in that prestigious tournament. Hammeke also took top novice and placed second in original oratory, as well as fourth place in informative speaking. Additionally, sophomore Laurel Kratz won three state championships in extemporaneous speaking, informative speaking, and in the pentathlon competition, which requires a student to be in five events over multiple genres. Kratz also took second in communication analysis and tied for third place in the overall forensicator award with junior John Wallis.
Additionally, Wallis won a state championship in impromptu speaking, took second place in extemporaneous speaking, third place in original oratory, and fifth place in the pentathlon. Rounding out the awards were Lily Reed, who was sixth in impromptu speaking and a quarterfinalist in parliamentary debate. Juliana Ness was sixth in after-dinner speaking, a quarterfinalist in the parliamentary discussion and took home a senior award. Zoe Rollins took fourth place in extemporaneous speaking, and Amethyst Lehmann also brought home a senior award, also contributing to the team's success was Garrett Dohlke.
The team has had a strong year, winning 160 awards before attending the National Comprehensive Tournament, hosted by Pi Kappa Delta, including earning 27 awards at the Kansas Wesleyan Border Wars tournament Jan. 31-Feb. 2. Most noteworthy is the team's consistent success in sweepstakes and pentathlon competitions. Sweepstakes awards recognize overall team success, often in fields of teams larger than Webster's entry. Pentathlon competition recognizes the best overall individual event competitor; generally, a student entered in five or more events that represent the full range of individual speaking and performance events.
As a product of the students' efforts, four team members also have qualified for the elite American Forensic Association National Individual Events Tournament. Kratz, Wallis, Hammeke, and Ness will compete in eight different events at that April tournament, making it one of Webster's largest and strongest entries since first attending that tournament in 1998.