Help Send the Forensics and Debate Team to the Nationals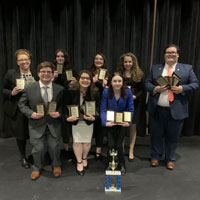 Thursday, March 5, at noon in the Library Conference Room, catch Webster University's award-winning Forensics and Debate Team in action -- and help send them to the national tournament.
The team has accepted a challenge from the sponsor of its national tournament, Pi Kappa Delta: Any team who can bring a minimum of 30 people to an audience debate will receive half off of their tournament fees.
Come fill the room as they debate the topic: "Resolved: This house believes that reducing the national debt is more important than policing the world."
Refreshments will be served.
Webster's team is an annual award winner, including at last month's Missouri State Tournament, where they brought home four State Championships, third place overall in the Individual Events Sweepstakes, and 26 awards.
Come see them in action and help send them on to greater success!
Update: Attendance goal achieved
The Webster University Forensic and Debate Program extends their appreciation to the campus community for supporting their audience debate on March 5. The program was challenged to host an audience debate with at least 30 audience members as a way of receiving a 50% deduction in their entry fees for the upcoming National Comprehensive Tournament, sponsored by Pi Kappa Delta.
The team has been actively fundraising so students can compete at a tournament they have not missed since 1999. Over 50 people attended the debate over the importance of reducing our nation's debt vs. policing the world. This campus support will go far in helping secure the team's plans to be part of what will be the largest tournament held this year.
"We can't begin to express our thanks to those who came out.... The audience speeches and the engagement of everyone there were wonderful signs of support for our students," said the program's head coach, Gina Jensen.