BFA Dance Concert 'Layers' Showcases Original Choreography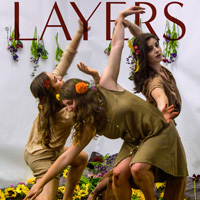 Webster University's Department of Dance in the Leigh Gerdine College of Fine Arts presents "Layers." The dance concert showcases the original choreography of senior Bachelor of Fine Arts (BFA) dance candidates: Gabriella Farrell, Nicole Kennett, and Isabelle Lande. Hannah Price is a self-interdisciplinary major who is also creating work in the concert.
"Layers" runs Thursday and Friday, Oct. 12-13, at 7:30 p.m., and Saturday, Oct. 14, at 2 p.m. The performance is located in Stage III, the lower level of Webster Hall. The concert is free and open to the public, though donations are accepted and appreciated.
"I want to explore the different ways concert dance can be created and make connections with the audience," explains choreographer Gabriella Farrell. "With these pieces, I strive to push myself outside of my box and create something new to me, and new to the dancers. Working with narrative, and non-narrative content can create many opportunities for the audience to perceive the piece and connect with the dancers through their movement. I hope to show the audience something new and exciting that will make them curious about what they know and what they don't know."
Farrell has resided in St. Louis since 2007, but she began her dance training in a small dance studio in Plano, Texas, under the instruction of Deborah Korpi. Throughout her training, Farrell attended many small dance studios around the United States, which eventually brought her to Webster to obtain her BFA in Dance. Her most current training includes St. Louis Ballet School, DanceWorks Chicago, and the Department of Dance at Webster.
"Women are a central part of my work right now -- their complexities, how they work in groups, and how they are viewed in society," says choreographer Nicole Kennett. "My choreographic style has one foot in a historical context and another in experimentation and innovation, placing those ideas opposite of each other to create something that is relevant but also looks forward is a goal of mine."
Kennett, a resident of St. Louis, began her dance training at Adams School of Dance, under the instruction of Denise Dodd and other members of the Adams family, where she later taught for several years. Kennett has performed in collaboration with The Big Muddy Dance Company, as a part of the Webster University Dance Ensemble, and worked as the dramaturg for James Robey's 2017 work, "Anecdoche."
"Throughout my three pieces, I am exploring the use of a continuing narrative," states Isabelle Lande. "I seek to explore a narrative, intermixed with other themes and maybe a hint of dance theater. I've chosen to add the ocean to my work by bringing actual water onto the stage. It may be a little messy, but it's exciting to explore."
Lande, began her dance training at The Ballet Academy in Cedar Rapids, Iowa. In addition to training at Webster, Lande has trained with Kansas City Ballet, Milwaukee Ballet, and Gelsey Kirkland Academy of Classical Ballet in New York. Lande has performed in Community Arts Festival STL, American College Dance Association Regional Conference, as well as the Webster University Dance Ensemble.
"We suffer and survive in order to thrive," explains Hannah Price when discussing her piece.
Price is from Winter Park, Florida. She is pursuing a degree consisting of dance, theater, and special education at Webster.
Concert Information
Webster University's Department of Dance BFA Choreographer Concert, "Layers," will take place Oct. 12-14 in Stage III, located in Webster Hall. The concert is free and open to the public, though donations are accepted and appreciated. For further information, call the Fine Arts Hotline at (314) 968-7128. For more information on the Department of Dance, call (314) 246-7747, email dance@webster.edu, or visit the Department of Dance website.