Webster's Virtual 101st Commencement Ceremony Scheduled for May 9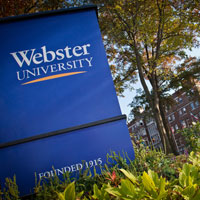 This year our main commencement ceremony will be delivered virtually on Saturday, May 9 at 9:30 a.m. RSVPs are not necessary to attend
The virtual main commencement ceremony will include all of the pomp and circumstance of the traditional main ceremony.
The event will commence with a virtual flag ceremony similar to the opening procession of the ceremony at the Muny followed by speeches from University leadership including Chancellor Elizabeth (Beth) J. Stroble and President Julian Z. Schuster.
Vladimir Ivkovic, PhD (BA 99), an expert on the neurological effects of spaceflight and extreme environments on human health and performance, will deliver the commencement address to our graduates. The President of the Webster University Board of Trustees will share words of encouragement and our Alumni Association Board President will officially welcome the class of 2020 into the Alumni Association, a global network of over 200,000 Gorloks.
At the end of the virtual main commencement ceremony, we will hear congratulatory messages from the Deans of each school and college and then see a scroll of the names of their graduates from our St. Louis Metro campuses who have completed their petition to graduate prior to April 9, 2020.
Our graduates from around our global network are invited to view the Virtual Commencement Ceremony and to attend our individual school and college ceremonies on our main campus to be held during Homecoming and Alumni Weekend Sept 25-26. More details and link to RSVP for those events are forthcoming.
For additional information on this Virtual Commencement Ceremony, and to view the ceremony on May 9, 2020, please visit webster.edu/commencement .