Back to Back Wins: Webster students again take first place in Chevy College Marketing Program Competition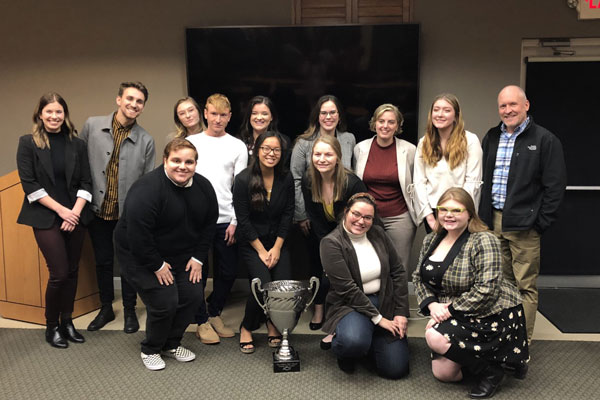 On Dec. 3, the ADVT 3150 Digital Marketing class won the Chevy College Marketing Program competition for the second year in a row. The class competed against two teams from Lindenwood University and one team from UMSL. The judging panel of approximately 15 comprised representatives from top local Chevy dealers and agency personnel representing the local Chevy dealers.
The Chevy College Marketing Program is unique to the St. Louis area due to its large concentration of universities and a large number of Chevy dealers in the metro area (37 dealers, which is referred to as the "LMA" or Local Marketing Association).
In addition to the presentation, the class produced an event, "The 11/8 Tailgate," to promote Chevy and conduct market research, as well as a 30-second video spot, both requirements of the program.
Adjunct faculty member Terry Sullivan developed the course, and this is his fourth-year teaching ADVT 3150 Digital Marketing. The students who participated in the marketing program are:
Jason Asher
Mon Mon Aye
Alyssa Bardol
Chandler Benthal (presenter)
Jakara Brooks
Lydia Bryda
Brandon Clark
Aliya Coons
Ellie Corner
Emma Ferguson
Drew Fisher (presenter)
Liana Gallyoun
Elizabeth Gerger (presenter)
Natalia Halon
Samuel Hodapp
Logan Jordan
Amina Kopic
Alessandra Lessen (presenter)
Stanley Luster
Jess Malvern (presenter)
Derrik Noack (presenter)
McKenzie Thessin (presenter)
Anna Weber
Andrew Welsh
Jewell Wood
For more information about Webster's Advertising and Marketing Program, visit the program page.