Disability Awareness Month Tips: If you don't know, ask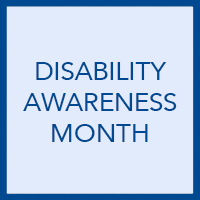 The Accessibility Committee and the Academic Resource Center (ARC) are providing weekly disability and accessibility tips this month for Disability Awareness Month.
Tip #5: If you don't know, ask
ARC staff are very helpful and knowledgeable. If you feel like you need to do something to assist a student but aren't sure what to do or how to proceed, reach out to the ARC team.
Visit the website for information and resources, but feel free to call or email a member of the ARC team as well.Key contacts for disability-related topics are Chanelle (Nellie) Hopmann, Interim Academic ADA Coordinator, and Cindy Yamnitz, Assistive Technology Program Coordinator.
You can find more information on the ARC staff here.
To read previous Disability Awareness Month tips, follow the links below.
Accessibility Tip 1: Lead with Empathy
Accessibility Tip 2: Provide Intentional Inclusion
Accessibility Tip 3: Supporting and obtaining student access