Dister Named FDC Assistant Director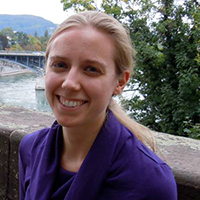 Academic Affairs and the Faculty Development Center (FDC) are pleased to announce that Elizabeth Dister will be assuming the role of assistant director of the FDC effective July 1, 2020. Dister has been a part-time staff member in the FDC since 2016, working to develop high-quality faculty professional development.
In her new role as the full-time assistant director, she will also assume responsibility for coordinating university academic program assessment activities, working with faculty members and academic leadership to ensure Webster is continuously improving programs and documenting those efforts.
The FDC strives to enhance the quality, engagement and efficiency of student learning experiences at Webster by supporting evidence-based teaching and fostering communities of teaching excellence. Dister's work as assistant director will strengthen the connections between faculty professional development and support for program assessment by providing enhanced support for faculty assessment activities and will allow the FDC to create new professional development opportunities in response to various student learning matters revealed through assessment activities.
Dister holds a PhD in music from Washington University. Her research focuses on French music and politics in the 20th century, in particular on musical representations of Joan of Arc in the 1930s and 1940s. Dister teaches classes on Western classical music history and American popular music, and her courses concentrate on developing students as listeners and performers while addressing issues of identity around gender, sexuality, race, ethnicity, and nationality.
In the Faculty Development Center, Dister focuses on teaching and learning issues related to student engagement and motivation and creates programming for faculty on topics such as teaching and technology, engaged learning, and inclusive teaching. FDC programs such as the Reflective Teaching Community have seen growth in faculty participation, and she has led the creation of important new programs like the Equity and Access Conversations Series.