Snapshots and Audio: 2019 Diversity and Inclusion Conference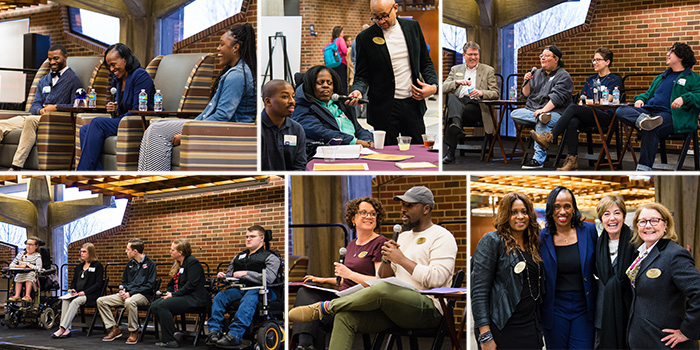 Webster University's 4th Annual Diversity and Inclusion Conference drew more than 500 speakers, panelists, volunteers and attendees to the Webster Groves campus, coming together for three days of thought-provoking activities to expand the conversation on diversity and learn how to become a more inclusive society.
[AUDIO UPDATE: Several sessions were recorded by the Media Center and can now be heard as individual podcasts. See the sessions below for an audio link to each recorded session. The recordings have also been airing locally on KWRH FM on Mondays at noon.]
The event began on Feb. 26, with opening remarks from Webster University President Elizabeth (Beth) J. Stroble and a conversation with six-time Olympic medalist Jackie Joyner-Kersee, interviewed by Webster University student athletes Darieana Hunter, a sophomore on the women's basketball team, and Brandyn Robinson, a senior on the men's track & field team.
Joyner-Kersee was also presented with the Champion for All award from Webster. In addition to reflecting on her own background and the obstacles she overcame, she left the audience with words of inspiration and encouragement: "We become what we say, what we believe we can manifest into existence. So I want you all to know, it's only difficult if you believe it is."
[LISTEN TO A RECORDING OF THE TALK WITH JOYNER-KERSEE HERE]
Additional sessions on Tuesday's opening day in the Luhr Building included: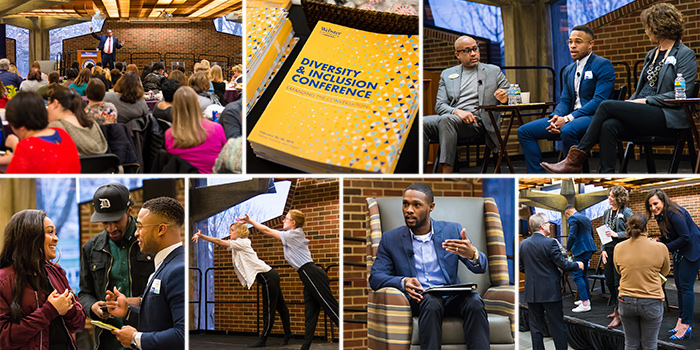 Day two opened with remarks from Vincent C. Flewellen, Webster's chief diversity officer, and a keynote from Neal Richardson (BS '09, MBA '12), president and co-founder of Dream Builders 4 Equity and recipient of Webster's Young Game Changer Award. Richardson reminded the audience about the benefits of facing discomfort. "That is where growth happens: in the most uncomfortable places," he said.
[LISTEN TO A RECORDING OF RICHARDSON'S TALK HERE]
Other sessions on Wednesday in the Luhr Building included: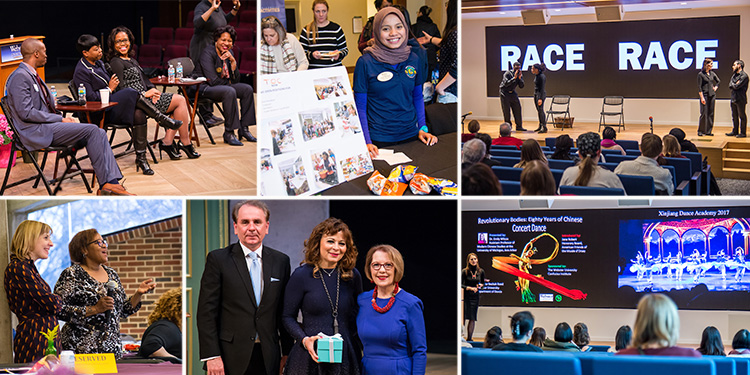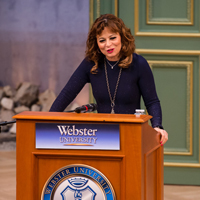 Thursday, the third and final day, began with reflections from President Stroble on the conference to that point, and an introduction of Marilyn Booker, who delivered the keynote address. [LISTEN TO A RECORDING OF BOOKER'S ADDRESS]
Booker is managing director and head of Urban Markets Group, Morgan Stanley Wealth Management. She delivered powerful remarks about the path to inclusion in our society thus far, and words of encouragement about the work yet to be done.
"Sometimes the material reward for fighting for justice will be meager, but the moral reward will be priceless," she said. "So reach out and help someone. Reach down and pull somebody up."
Other sessions on Thursday, in the Loretto-Hilton Center, the East Academic Building, and Browning Hall, the interdisciplinary science building, included:
Learn More