Thank You from Webster's Diversity and Inclusion Conference Planners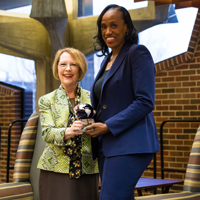 The 4th Annual Diversity & Inclusion Conference was a tremendous success thanks to speakers, panelists, volunteers and attendees. We hope that you found the conference informative and worthwhile. The primary goal was to bring faculty, staff, students and members of the community together to expand the conversation on diversity and learn how to become a more inclusive society.
We believe that our diverse and dynamic group of speakers and panelists provided in-depth insight, as well as, actionable and practical ideas on how to respect and honor the variety of differences that we have and how these differences make us a richer community.
Our attendees also helped make this event a great success by sharing their thoughts and experiences and creating brave spaces where others could share their thoughts and ask questions to help gain a better understanding.
We were proud to welcome so many members of the St. Louis community onto our campus and we thank Lents & Associates for securing a number of interviews to promote the conference to print media outlets, radio stations and television news programs.
The thoughtful presentations of our three main speakers – Marilyn Booker, Jackie Joyner-Kersee and Neal Richardson – gave attendees a great deal to think about as we learned how they model inclusion in their own careers and lives.
This event was a success because of the efforts of a number of departments throughout Webster University including: Global Marketing & Communications, Special Events, Sodexo, Development, the Confucius Institute, Webster Athletics, Multicultural Center and International Student Affairs, Student Government Association, Public Safety, Facilities and the Academic Resource Center.
The event this year broke all previous attendance records and would not have been possible without the following sponsors:
Thank you for helping to advance diversity and inclusion in the St. Louis area.
Sincerely,
The 2019 Diversity & Inclusion Conference Planning Committee
Quen Agnew, Patricia Arnold, Vincent C. Flewellen, Nancy Higgins, Peggy Lents, Rick Rockwell, Dana Sprehe, Jennifer Starkey, Elizabeth (Beth) J. Stroble and Matthew West
Related