Trezette Dixon Named Director of School of Communication Internship Program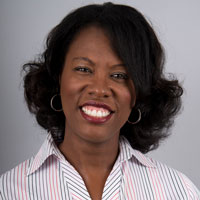 Effective Wednesday, March 11, Trezette Dixon will lead the School of Communications Internship Program as its director. Dixon has been with Webster University for 15 years, providing leadership in the areas of employment services, employer development and event management as the Career Planning & Development Center's assistant director for Employer Relations. In her new role, Dixon is replacing Mindy Berkowitz, who retired in January.
John Link, director of the Career Planning & Development Center, will lead employer relations as the Center prepares to begin a search to fill the vacant position.
Dixon holds a BA in Speech Communication and M.Ed. in Adult Education. She is also a certified Global Career Development Facilitator. Dixon is currently a member of the National Association of Colleges and Employers, Midwest Association of Colleges and Employers, and the Gateway Career Services Association. Dixon was asked to speak on topics including: Career Readiness, Employer Tours on a Budget, Changing the Way We Work: Initiating Alternative Work Schedules, and Connecting Employers with Campus Partners.
Dixon most recently moderated a panel on Preparing Students for Workplace Diversity at the 2020 Diversity & Inclusion Conference. She has been honored with the Webster University Student Affairs "Putting Students First" and YWCA Women in Leadership Awards.
Leadership in Career Planning and Development Center signature events include the annual Career Fair, Teacher Recruitment Day and introduction of new programs and events to engage employers like Employer Road Shows, Internship Fairs, Internship Bridge, the Volunteer Expo, and Recruiter in Residence.
"Trezette's dedication and leadership will live on in our office, as she has set a high bar for employer services and engagement at Webster University," said John Link.